Gallery
Description
Reviews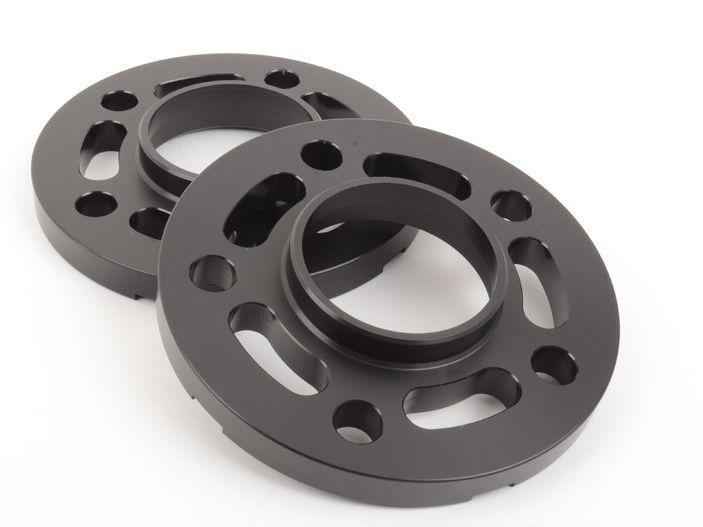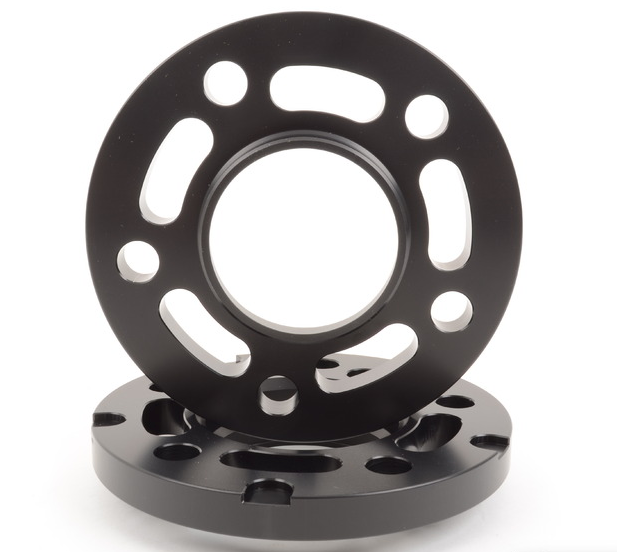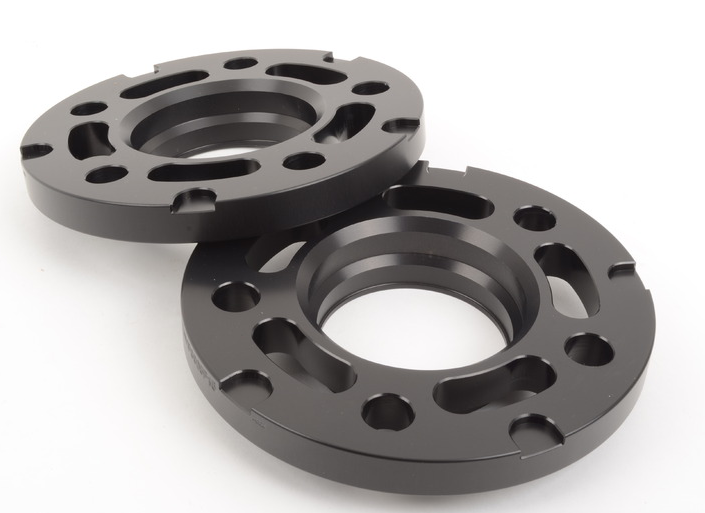 These wheel spacers are especially designed for newer BMW wheels that use a larger pad. While most wheel spacers are 150mm in diameter, most factory wheels from BMW feature a 156mm wheel pad. This results in an unsightly step down visible through the wheel opening. This is the perfect upgrade for detail-oriented enthusiasts.
Features:
Lightweight - excess material is removed to reduce unsprung weight while preserving strength
Ingenious notch for easy removal, even on heavily corroded wheels
Made to exacting specifications for great fitment
Manufactured in the USA
Note: Your factory wheel bolts are typically 25mm in length. To safely install wheel spacers, be sure to select wheel bolts that are longer than stock by the correct amount. Wheel bolts that are too long may interfere with other parts inside the hub, such as ABS sensors or your parking brake mechanism. Wheel stud conversion kits are also available.
This Part Fits the Following Vehicles
| Make | Model | Submodel | Engine |
| --- | --- | --- | --- |
| BMW | F01 | 740i | N54 3.0L |
| BMW | F01 | 750i | N63 4.4L |
| BMW | F01 | 750i xDrive | N63 4.4L |
| BMW | F01 | Alpina B7 | N63 4.4L |
| BMW | F02 | 740Ld xDrive | N57 3.0L |
| BMW | F02 | 740Li | N54 3.0L |
| BMW | F02 | 740Li xDrive | N55 3.0L |
| BMW | F02 | 750Li | N63 4.4L |
| BMW | F02 | 750Li xDrive | N63 4.4L |
| BMW | F02 | 760Li | N74 6.0L |
| BMW | F02 | ActiveHybrid 7 | N55 3.0L |
| BMW | F06 | 640i | N55 3.0L |
| BMW | F06 | 640i xDrive | N55 3.0L |
| BMW | F06 | 650i | N63 4.4L |
| BMW | F06 | 650i xDrive | N63 4.4L |
| BMW | F06 | Alpina B6 xDrive | N63 4.4L |
| BMW | F06 | M6 Gran Coupe | S63 4.4L |
| BMW | F07 | 535i | N55 3.0L |
| BMW | F07 | 535i xDrive | N55 3.0L |
| BMW | F07 | 550i | N63 4.4L |
| BMW | F07 | 550i xDrive | N63 4.4L |
| BMW | F10 | 528i | N20 2.0L |
| BMW | F10 | 528i | N52 3.0L |
| BMW | F10 | 528i xDrive | N20 2.0L |
| BMW | F10 | 535d | N57 3.0L |
| BMW | F10 | 535d xDrive | N57 3.0L |
| BMW | F10 | 535i | N55 3.0L |
| BMW | F10 | 535i xDrive | N55 3.0L |
| BMW | F10 | 550i | N63 4.4L |
| BMW | F10 | 550i xDrive | N63 4.4L |
| BMW | F10 | ActiveHybrid 5 | N55 3.0L |
| BMW | F10 | M5 | S63 4.4L |
| BMW | F12 | 640i | N55 3.0L |
| BMW | F12 | 640i xDrive | N55 3.0L |
| BMW | F12 | 650i | N63 4.4L |
| BMW | F12 | 650iX | N63 4.4L |
| BMW | F12 | M6 | 4.4L |
| BMW | F12 | M6 | S63 4.4L |
| BMW | F13 | 640i | N55 3.0L |
| BMW | F13 | 640i xDrive | N55 3.0L |
| BMW | F13 | 650i | N63 4.4L |
| BMW | F13 | 650iX | N63 4.4L |
| BMW | F13 | M6 | S63 4.4L |
| BMW | F22 | 228i | N20 2.0L |
| BMW | F22 | 228i xDrive | N20 2.0L |
| BMW | F22 | 230i | B46 2.0L |
| BMW | F22 | 230i xDrive | B46 2.0L |
| BMW | F22 | M235i | N55 3.0L |
| BMW | F22 | M235i xDrive | N55 3.0L |
| BMW | F22 | M240i | B58 3.0L |
| BMW | F22 | M240i xDrive | B58 3.0L |
| BMW | F23 | 228i | N20 2.0L |
| BMW | F23 | 228i xDrive | N20 2.0L |
| BMW | F23 | 230i | B46 2.0L |
| BMW | F23 | 230i xDrive | B46 2.0L |
| BMW | F23 | M235i | N55 3.0L |
| BMW | F23 | M235i xDrive | N55 3.0L |
| BMW | F23 | M240i | B58 3.0L |
| BMW | F23 | M240i xDrive | B58 3.0L |
| BMW | F25 | X3 sDrive28i | N20 2.0L |
| BMW | F25 | X3 xDrive28d | N47 2.0L |
| BMW | F25 | xDrive2.8i | N52 3.0L |
| BMW | F25 | xDrive3.5i | N54 3.0L |
| BMW | F25 | xDrive3.5i | N55 3.0L |
| BMW | F26 | X4 xDrive28i | N20 2.0L |
| BMW | F26 | X4 xDrive35i | N55 3.0L |
| BMW | F30 | 320i | N20 2.0L |
| BMW | F30 | 320i xDrive | N20 2.0L |
| BMW | F30 | 328d | N47 2.0L |
| BMW | F30 | 328d xDrive | N47 2.0L |
| BMW | F30 | 328i | N20 2.0L |
| BMW | F30 | 328i xDrive | N20 2.0L |
| BMW | F30 | 330e iPerformance | B48 2.0L |
| BMW | F30 | 330i | B48 2.0L |
| BMW | F30 | 330i xDrive | B48 2.0L |
| BMW | F30 | 335i | N55 3.0L |
| BMW | F30 | 335i xDrive | N55 3.0L |
| BMW | F30 | 340i | B58 3.0L |
| BMW | F30 | 340i xDrive | B58 3.0L |
| BMW | F30 | ActiveHybrid 3 | N55 3.0L |
| BMW | F31 | 328d xDrive | N47 2.0L |
| BMW | F31 | 328i xDrive | N20 2.0L |
| BMW | F32 | 428i | N20 2.0L |
| BMW | F32 | 428i xDrive | N20 2.0L |
| BMW | F32 | 430i | B46 2.0L |
| BMW | F32 | 430i xDrive | B46 2.0L |
| BMW | F32 | 435i | N55 3.0L |
| BMW | F32 | 435i xDrive | N55 3.0L |
| BMW | F32 | 440i | B58 3.0L |
| BMW | F32 | 440i xDrive | B58 3.0L |
| BMW | F33 | 428i | N20 2.0L |
| BMW | F33 | 428i xDrive | N20 2.0L |
| BMW | F33 | 430i | B46 2.0L |
| BMW | F33 | 430i xDrive | B46 2.0L |
| BMW | F33 | 435i | N55 3.0L |
| BMW | F33 | 435i xDrive | N55 3.0L |
| BMW | F33 | 440i | B58 3.0L |
| BMW | F33 | 440i xDrive | B58 3.0L |
| BMW | F34 | 328i xDrive | N20 2.0L |
| BMW | F34 | 335i xDrive | N55 3.0L |
| BMW | F34 | 340i xDrive | B58 3.0L |
| BMW | F36 | 428i | N20 2.0L |
| BMW | F36 | 428i xDrive | N20 2.0L |
| BMW | F36 | 430i | B46 2.0L |
| BMW | F36 | 430i xDrive | B46 2.0L |
| BMW | F36 | 435i | N55 3.0L |
| BMW | F36 | 435i xDrive | N55 3.0L |
| BMW | F36 | 440i | B58 3.0L |
| BMW | F36 | 440i xDrive | B58 3.0L |
| BMW | F80 | M3 | S55 3.0L |
| BMW | F82 | M4 | S55 3.0L |
| BMW | F83 | M4 | S55 3.0L |
| BMW | F87 | M2 | N55 3.0L |