Gallery
Description
Reviews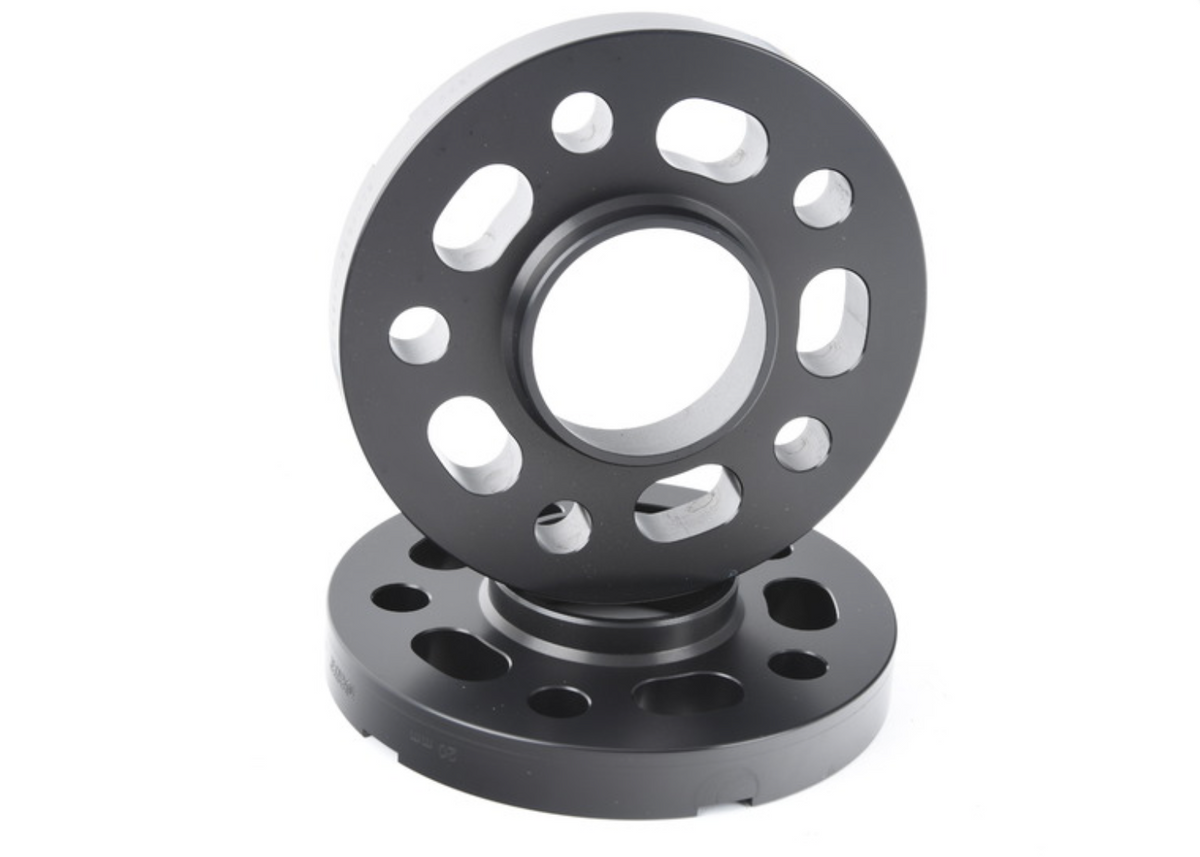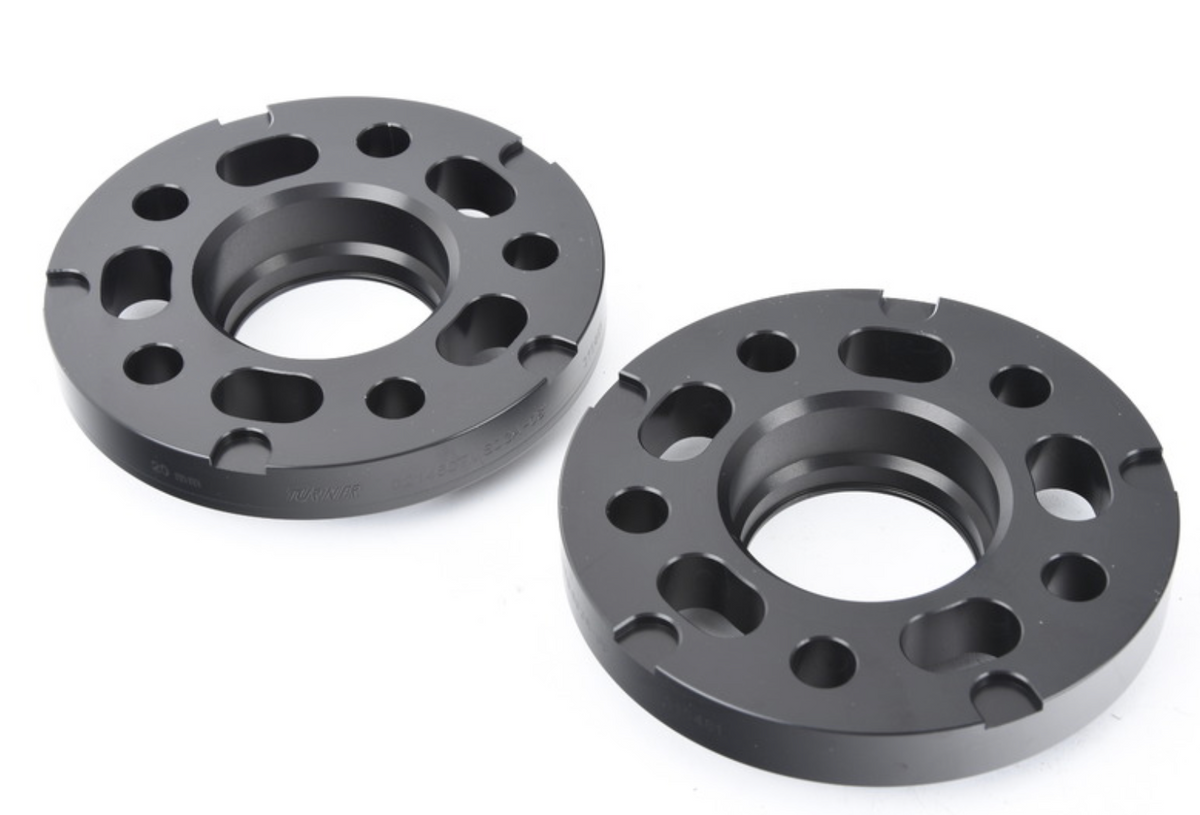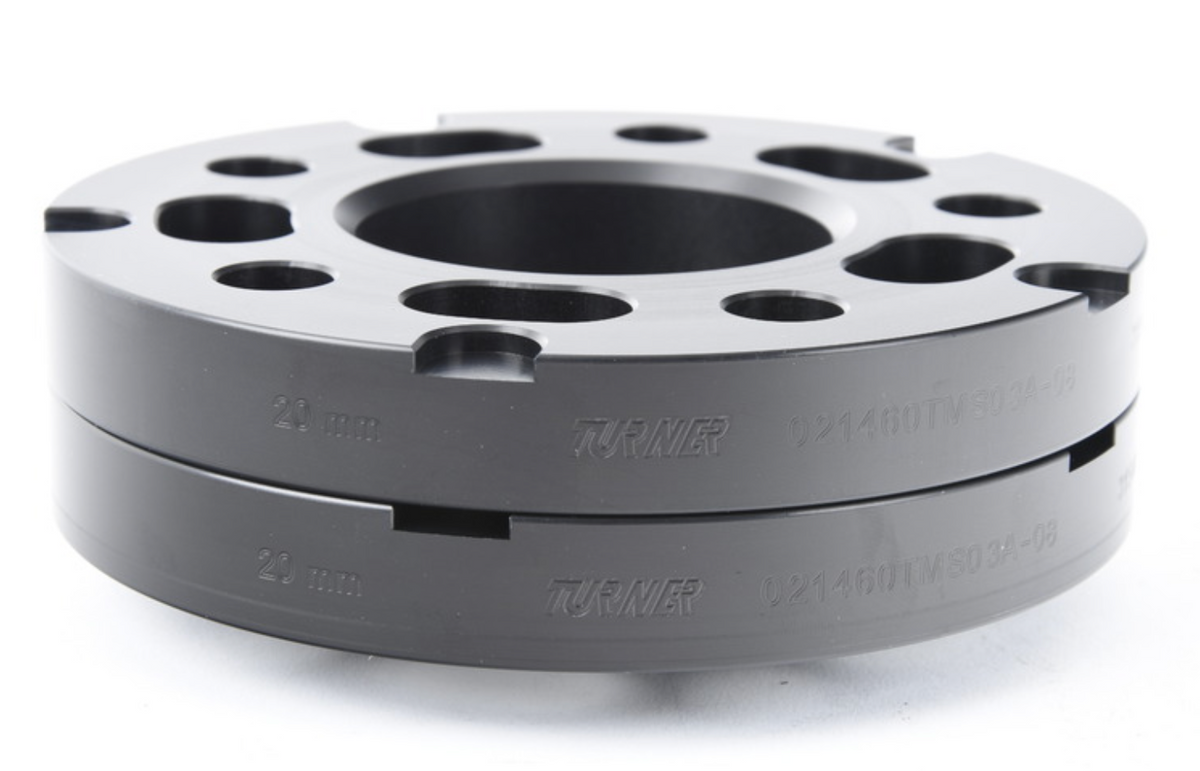 Product Details
Turner Motorsport has spent the last two decades striving for ultimate performance on the racetrack, and transferring the knowledge gained from winning races onto the street. Their line of BMW performance parts combines, high quality, great value, and most importantly, superior performance that will allow you to dial in your ride to suit your driving style and allow your BMW to live up to its full potential. These wheel spacers will help you perfect the fitment of your BMW, and EuroCustomsPR has a full line of wheel bolts and studs to complete the package. Sold as a pair.
Features:
Lightweight - excess material is removed to reduce unsprung weight while preserving strength
Ingenious notch for easy removal, even on heavily corroded wheels
Made to exacting specifications for great fitment
Manufactured in the USA
Note: Your factory wheel bolts are typically 25mm in length. To safely install wheel spacers, be sure to select wheel bolts that are longer than stock by the correct amount. Wheel bolts that are too long may interfere with other parts inside the hub, such as ABS sensors or your parking brake mechanism. Wheel stud conversion kits are also available.
This Part Fits the Following Vehicles
| Make | Model | Submodel | Engine |
| --- | --- | --- | --- |
| Audi | A7 | C7 | 3.0 TDI |
| Audi | A7 | C7 | 3.0T |
| Audi | All Road | All | 2.0T |
| Audi | B8 A4 | FWD | 2.0T |
| Audi | B8 A4 | Quattro | 2.0T |
| Audi | B8 A4 | Quattro | V6 3.2L |
| Audi | B8 A5 | Quattro | 2.0T |
| Audi | B8 A5 | Quattro | V6 3.2L |
| Audi | B8 RS5 | All | 4.2L |
| Audi | B8 S4 | Quattro | 3.0T |
| Audi | B8 S5 | Quattro | 3.0T Cabriolet |
| Audi | B8 S5 | Quattro | 3.0T Coupe |
| Audi | B8 S5 | Quattro | V8 4.2L |
| Audi | B9 A4 | FWD | 2.0T |
| Audi | B9 A4 | Quattro | 2.0T |
| Audi | B9 A5 | Quattro | 2.0T |
| Audi | B9 A5 | Quattro | 2.0T Sportback |
| Audi | B9 S4 | Quattro | 3.0T |
| Audi | B9 S5 | Quattro | 3.0T |
| Audi | B9 S5 | Quattro | 3.0T Sportback |
| Audi | B9 S5 | Quattro | 3.0T Cabriolet |
| Audi | C7 A6 | FWD | 2.0T |
| Audi | C7 A6 | FWD | V6 3.0T |
| Audi | C7 A6 | Quattro | 2.0T |
| Audi | C7 A6 | Quattro | 3.0 TDI |
| Audi | C7 A6 | Quattro | V6 3.0T |
| Audi | C7 S6 | Quattro | 4.0T |
| Audi | C7 S7 | Quattro | 4.0T |
| Audi | D4 A8 | Quattro | 3.0 TDI |
| Audi | D4 A8 | Quattro | 3.0T |
| Audi | D4 A8 | Quattro | 4.0T |
| Audi | Q5 | GTI | 3.0T |
| Audi | Q5 | Quattro | 2.0T |
| Audi | Q5 | Quattro | 3.0 TDI |
| Audi | Q5 | Quattro | 3.2L |
| Audi | RS7 | GTI | 4.0T |
| Audi | SQ5 | GTI | 3.0T |
| BMW | F48 | X1 sDrive28i | B46 2.0L |
| BMW | F48 | X1 xDrive28i | B46 2.0L |
| BMW | G11 | 740i | B58 3.0L |
| BMW | G11 | 750i | N63 4.4L |
| BMW | G11 | 750i xDrive | N63 4.4L |
| BMW | G30 | 530e | B48 2.0L |
| BMW | G30 | 530e xDrive | B48 2.0L |
| BMW | G30 | 530i | B48 2.0L |
| BMW | G30 | 530i xDrive | B48 2.0L |
| BMW | G30 | 540i | B58 3.0L |
| BMW | G30 | 540i xDrive | B58 3.0L |
| BMW | G30 | M550i xDrive | N63 4.4L |
| BMW | I01 | i3 | IB3 |
| BMW | I12 | i8 | B38 1.5L |
| Mercedes Benz | C230 | Base | L4 2.3L |
| Mercedes Benz | C230 | Base | L4 2.3L 111.974 |
| Mercedes Benz | C230 | Kompressor | L4 1.8L |
| Mercedes Benz | C230 | Kompressor | L4 2.3L 111.975 |
| Mercedes Benz | C230 | Kompressor | L4 2.3L 111.981 |
| Mercedes Benz | C230 | Sport | V6 2.5L 272.920 |
| Mercedes Benz | C230 | Sport | V6 3.5L 272.960 |
| Mercedes Benz | C250 | Base | I4 1.8L 271.860 |
| Mercedes Benz | C250 | Luxury | I4 1.8L 271.860 |
| Mercedes Benz | C250 | Sport | I4 1.8L 271.860 |
| Mercedes Benz | C280 | 4Matic | V6 3.0L 272.941 |
| Mercedes Benz | C280 | Base | L6 2.8L |
| Mercedes Benz | C280 | Base | V6 2.8L |
| Mercedes Benz | C280 | Base | V6 2.8L 112.920 |
| Mercedes Benz | C280 | Luxury | V6 3.0L 272.940 |
| Mercedes Benz | C300 | 4Matic | I4 2.0L 274.920 |
| Mercedes Benz | C300 | 4Matic | V6 3.5L 276.957 |
| Mercedes Benz | C300 | 4Matic Luxury | V6 3.0L 272.948 |
| Mercedes Benz | C300 | 4Matic Luxury | V6 3.5L 276.957 |
| Mercedes Benz | C300 | 4Matic Sport | V6 3.0L 272.948 |
| Mercedes Benz | C300 | 4Matic Sport | V6 3.5L 276.957 |
| Mercedes Benz | C300 | Base | I4 2.0L 274.920 |
| Mercedes Benz | C300 | Luxury | V6 3.0L 272.947 |
| Mercedes Benz | C300 | Luxury | V6 3.0L 272.948 |
| Mercedes Benz | C300 | Sport | V6 3.0L 272.947 |
| Mercedes Benz | C300 | Sport | V6 3.0L 272.948 |
| Mercedes Benz | C350 | 4Matic | V6 3.5L 272.970 |
| Mercedes Benz | C350 | 4Matic | V6 3.5L 276.957 |
| Mercedes Benz | C350 | Base | V6 3.5L 276.957 |
| Mercedes Benz | C350 | Luxury | V6 3.5L 272.960 |
| Mercedes Benz | C350 | Sport | V6 3.0L 272.947 |
| Mercedes Benz | C350 | Sport | V6 3.5L 272.960 |
| Mercedes Benz | C350 | Sport | V6 3.5L 272.961 |
| Mercedes Benz | C350 | Sport | V6 3.5L 276.957 |
| Mercedes Benz | C400 | 4Matic | V6 3.5L 276.823 |
| Mercedes Benz | C63 AMG | Base | V8 6.3L 156.985 |
| Mercedes Benz | CL550 | 4Matic | V8 4.6L 278.920 |
| Mercedes Benz | CL550 | 4Matic | V8 5.5L 273.968 |
| Mercedes Benz | CL550 | Base | V8 5.5L 273.961 |
| Mercedes Benz | CL600 | Base | V12 5.5L |
| Mercedes Benz | CL600 | Base | V12 5.5L 275.950 |
| Mercedes Benz | CL600 | Base | V12 5.5L 275.953 |
| Mercedes Benz | CL600 | Base | V12 5.8L |
| Mercedes Benz | CL600 | Base | V12 6.0L |
| Mercedes Benz | CL600 | Base | V12 6.0L 275.953 |
| Mercedes Benz | CL63 AMG | Base | V8 5.5L 157.980 |
| Mercedes Benz | CL63 AMG | Base | V8 6.3L 156.984 |
| Mercedes Benz | CL65 AMG | Base | V12 6.0L 275.980 |
| Mercedes Benz | CL65 AMG | Base | V12 6.0L 275.982 |
| Mercedes Benz | CLA250 | 4Matic | 270.920 |
| Mercedes Benz | CLA250 | Base | I4 2.0L 270.920 |
| Mercedes Benz | CLA250 | GTI | 270.920 |
| Mercedes Benz | CLA45 AMG | Base | I4 2.0L 133.980 |
| Mercedes Benz | CLK350 | Base | V6 3.5L 272.960 |
| Mercedes Benz | CLK550 | Base | V8 5.5L 273.967 |
| Mercedes Benz | CLK63 AMG | Base | V8 6.3L 156.982 |
| Mercedes Benz | CLK63 AMG | Black Series | V8 6.3L 156.982 |
| Mercedes Benz | CLS550 | 4Matic | V8 4.6L 278.922 |
| Mercedes Benz | CLS550 | Base | V8 4.6L 278.922 |
| Mercedes Benz | CLS550 | Base | V8 5.5L 273.960 |
| Mercedes Benz | CLS63 AMG | 4Matic | V8 5.5L 157.981 |
| Mercedes Benz | CLS63 AMG | 4Matic S-Model | V8 5.5L 157.981 |
| Mercedes Benz | CLS63 AMG | Base | V8 5.5L 157.981 |
| Mercedes Benz | CLS63 AMG | Base | V8 6.3L 156.983 |
| Mercedes Benz | E250 | Bluetec | I4 2.1L 651.924 |
| Mercedes Benz | E250 | Bluetec 4Matic | I4 2.1L 651.924 |
| Mercedes Benz | E320 | 4Matic | V6 3.2L |
| Mercedes Benz | E320 | 4Matic | V6 3.2L 112.941 |
| Mercedes Benz | E320 | 4Matic | V6 3.2L 112.954 |
| Mercedes Benz | E320 | Base | L6 3.0L |
| Mercedes Benz | E320 | Base | L6 3.0L 606.962 |
| Mercedes Benz | E320 | Base | L6 3.2L |
| Mercedes Benz | E320 | Base | V6 3.2L |
| Mercedes Benz | E320 | Base | V6 3.2L 112.941 |
| Mercedes Benz | E320 | Base | V6 3.2L 112.949 |
| Mercedes Benz | E320 | Bluetec | V6 3.0L 642.920 |
| Mercedes Benz | E320 | CDI | L6 3.2L 648.961 |
| Mercedes Benz | E350 | 4Matic | V6 3.5L |
| Mercedes Benz | E350 | 4Matic | V6 3.5L 272.972 |
| Mercedes Benz | E350 | 4Matic | V6 3.5L 272.977 |
| Mercedes Benz | E350 | 4Matic | V6 3.5L 276.952 |
| Mercedes Benz | E350 | 4Matic | V6 3.5L 276.957 |
| Mercedes Benz | E350 | Base | V6 3.5L |
| Mercedes Benz | E350 | Base | V6 3.5L 272.964 |
| Mercedes Benz | E350 | Base | V6 3.5L 272.980 |
| Mercedes Benz | E350 | Base | V6 3.5L 272.988 |
| Mercedes Benz | E350 | Base | V6 3.5L 276.952 |
| Mercedes Benz | E350 | Base | V6 3.5L 276.957 |
| Mercedes Benz | E350 | Bluetec | 642.850 |
| Mercedes Benz | E350 | BlueTec (Diesel) | V6 3.0L 642.850 |
| Mercedes Benz | E400 | Hybrid | V6 3.5L 276.952 |
| Mercedes Benz | E550 | 4Matic | V8 4.6L 278.922 |
| Mercedes Benz | E550 | 4Matic | V8 5.5L 273.962 |
| Mercedes Benz | E550 | 4Matic | V8 5.5L 273.970 |
| Mercedes Benz | E550 | Base | V8 4.6L 278.922 |
| Mercedes Benz | E550 | Base | V8 5.5L 273.960 |
| Mercedes Benz | E550 | Base | V8 5.5L 273.966 |
| Mercedes Benz | E550 | Base | V8 5.5L 273.971 |
| Mercedes Benz | E63 AMG | 4Matic | V8 5.5L 157.981 |
| Mercedes Benz | E63 AMG | 4Matic S-Model | V8 5.5L 157.981 |
| Mercedes Benz | E63 AMG | Base | V8 5.5L 157.981 |
| Mercedes Benz | E63 AMG | Base | V8 6.3L 156.983 |
| Mercedes Benz | E63 AMG | Base | V8 6.3L 156.985 |
| Mercedes Benz | G500 | Base | V8 5.0L |
| Mercedes Benz | G500 | Base | V8 5.0L 113.962 |
| Mercedes Benz | G55 AMG | Base | V8 5.5L |
| Mercedes Benz | G55 AMG | Base | V8 5.5L 113.993 |
| Mercedes Benz | G550 | 4Matic | V8 5.5L 273.963 |
| Mercedes Benz | G550 | Base | V8 5.5L 273.963 |
| Mercedes Benz | G63 AMG | Base | V8 5.5L 157.984 |
| Mercedes Benz | GL320 | Bluetec 4Matic | V6 3.0L 642.820 |
| Mercedes Benz | GL320 | CDI | V6 3.0L 642.940 |
| Mercedes Benz | GL350 | Bluetec | V6 3.0L 642.820 |
| Mercedes Benz | GL350 | Bluetec 4Matic | V6 3.0L 642.820 |
| Mercedes Benz | GL350 | Bluetec 4Matic | V6 3.0L 642.826 |
| Mercedes Benz | GL450 | 4Matic | V8 4.6L 278.928 |
| Mercedes Benz | GL450 | 4Matic | V8 4.7L 273.923 |
| Mercedes Benz | GL450 | Base | V8 4.6L 273.923 |
| Mercedes Benz | GL550 | 4Matic | V8 4.6L 278.928 |
| Mercedes Benz | GL550 | Base | V8 5.5L 273.963 |
| Mercedes Benz | GL63 AMG | Base | V8 5.5L 157.982 |
| Mercedes Benz | GLK250 | Bluetec 4Matic | I4 2.1L 651.912 |
| Mercedes Benz | GLK350 | 4Matic | V6 3.5L 272.971 |
| Mercedes Benz | GLK350 | 4Matic | V6 3.5L 276.957 |
| Mercedes Benz | GLK350 | Base | V6 3.5L 272.991 |
| Mercedes Benz | GLK350 | Rear Wheel Drive | V6 3.5L 272.991 |
| Mercedes Benz | GLK350 | Rear Wheel Drive | V6 3.5L 276.957 |
| Mercedes Benz | GLK350 | Rear Wheel Drive | V6 3.5L 276.984 |
| Mercedes Benz | ML320 | Base | V6 3.2L |
| Mercedes Benz | ML320 | Base | V6 3.2L 112.942 |
| Mercedes Benz | ML320 | Bluetec 4Matic | V6 3.0L 642.820 |
| Mercedes Benz | ML320 | CDI | V6 3.0L 642.940 |
| Mercedes Benz | ML350 | 4Matic | V6 3.5L 276.955 |
| Mercedes Benz | ML350 | Base | V6 3.5L |
| Mercedes Benz | ML350 | Base | V6 3.5L 272.967 |
| Mercedes Benz | ML350 | Base | V6 3.7L |
| Mercedes Benz | ML350 | Bluetec 4Matic | V6 3.0L 642.820 |
| Mercedes Benz | ML350 | Bluetec 4Matic | V6 3.0L 642.826 |
| Mercedes Benz | ML350 | Rear Wheel Drive | V6 3.5L 272.967 |
| Mercedes Benz | ML350 | Rear Wheel Drive | V6 3.5L 276.955 |
| Mercedes Benz | ML450 | Hybrid 4Matic | V6 3.5L 272.973 |
| Mercedes Benz | ML500 | Base | V8 5.0L |
| Mercedes Benz | ML500 | Base | V8 5.0L 113.964 |
| Mercedes Benz | ML550 | 4Matic | V8 4.6L 278.928 |
| Mercedes Benz | ML550 | Base | V8 5.5L 273.963 |
| Mercedes Benz | ML63 AMG | Base | V8 5.5L 157.982 |
| Mercedes Benz | ML63 AMG | Base | V8 6.3L 156.980 |
| Mercedes Benz | ML63 AMG | GTI | 5.5L V8 157.982 |
| Mercedes Benz | R320 | Bluetec | V6 3.0L 642.870 |
| Mercedes Benz | R320 | CDI | V6 3.0L 642.950 |
| Mercedes Benz | R350 | 4Matic | V6 3.5L |
| Mercedes Benz | R350 | 4Matic | V6 3.5L 272.967 |
| Mercedes Benz | R350 | Base | V6 3.5L 272.967 |
| Mercedes Benz | R350 | Base | V6 3.5L 276.958 |
| Mercedes Benz | R350 | Bluetec 4Matic | V6 3.0L 642.870 |
| Mercedes Benz | R500 | Base | V8 5.0L |
| Mercedes Benz | R500 | Base | V8 5.0L 113.971 |
| Mercedes Benz | R63 AMG | Base | V8 6.3L 156.980 |
| Mercedes Benz | S350 | 4Matic | V6 3.0L 642.868 |
| Mercedes Benz | S350 | Base | L6 3.4L |
| Mercedes Benz | S350 | Base | V6 3.7L |
| Mercedes Benz | S350 | Bluetec 4Matic | V6 3.0L 642.868 |
| Mercedes Benz | S400 | Hybrid | V6 3.5L 272.974 |
| Mercedes Benz | S550 | 4Matic | V8 4.6L 278.929 |
| Mercedes Benz | S550 | 4Matic | V8 4.6L 278.932 |
| Mercedes Benz | S550 | 4Matic | V8 5.5L 273.968 |
| Mercedes Benz | S550 | Base | V8 4.6L 278.929 |
| Mercedes Benz | S550 | Base | V8 4.6L 278.932 |
| Mercedes Benz | S550 | Base | V8 5.5L 273.961 |
| Mercedes Benz | S600 | Base | V12 5.5L |
| Mercedes Benz | S600 | Base | V12 5.5L 275.953 |
| Mercedes Benz | S600 | Base | V12 5.8L |
| Mercedes Benz | S600 | Base | V12 6.0L |
| Mercedes Benz | S600 | Base | V12 6.0L 120.982 |
| Mercedes Benz | S600 | Base | V12 6.0L 277.980 |
| Mercedes Benz | S63 AMG | 4Matic | V8 5.5L 157.985 |
| Mercedes Benz | S63 AMG | Base | V8 5.5L 157.980 |
| Mercedes Benz | S63 AMG | Base | V8 5.5L 157.985 |
| Mercedes Benz | S63 AMG | Base | V8 6.3L 156.984 |
| Mercedes Benz | S63 AMG | Base | V8 6.3L 156.985 |
| Mercedes Benz | S65 AMG | Base | V12 6.0L 275.980 |
| Mercedes Benz | S65 AMG | Base | V12 6.0L 275.982 |
| Mercedes Benz | S65 AMG | Base | V12 6.0L 279.980 |
| Mercedes Benz | SL55 AMG | Base | V8 5.5L |
| Mercedes Benz | SL55 AMG | Base | V8 5.5L 113.992 |
| Mercedes Benz | SL55 AMG | Base | V8 5.5L 113.995 |
| Mercedes Benz | SL55 AMG | Kompressor | V8 5.5L |
| Mercedes Benz | SL550 | Base | V8 4.6L 278.927 |
| Mercedes Benz | SL550 | Base | V8 5.5L 273.965 |
| Mercedes Benz | SL600 | Base | V12 5.5L |
| Mercedes Benz | SL600 | Base | V12 5.5L 275.951 |
| Mercedes Benz | SL600 | Base | V12 5.5L 275.954 |
| Mercedes Benz | SL600 | Base | V12 6.0L |
| Mercedes Benz | SL600 | Base | V12 6.0L 120.983 |
| Mercedes Benz | SL63 AMG | Base | V8 5.5L 157.983 |
| Mercedes Benz | SL63 AMG | Base | V8 6.3L 156.981 |
| Mercedes Benz | SL65 AMG | Base | V12 6.0L 275.981 |
| Mercedes Benz | SL65 AMG | Base | V12 6.0L 279.981 |
| Mercedes Benz | SL65 AMG | Black Series | V12 6.0L 275.981 |
| Mercedes Benz | SLK250 | Base | I4 1.8L 271.861 |
| Mercedes Benz | SLK280 | Base | V6 3.0L 272.942 |
| Mercedes Benz | SLK300 | Base | V6 3.0L 272.942 |
| Mercedes Benz | SLK350 | Base | V6 3.5L 272.963 |
| Mercedes Benz | SLK350 | Base | V6 3.5L 272.969 |
| Mercedes Benz | SLK350 | Base | V6 3.5L 276.956 |
| Mercedes Benz | SLK55 AMG | Base | V8 5.5L |
| Mercedes Benz | SLK55 AMG | Base | V8 5.5L 113.989 |
| Mercedes Benz | SLK55 AMG | Base | V8 5.5L 152.980 |
| Porsche | Macan | S | V6 3.0L MCT.MA |
| Porsche | Macan | Turbo | V6 3.6L MCT.LA |