Gallery
Description
Reviews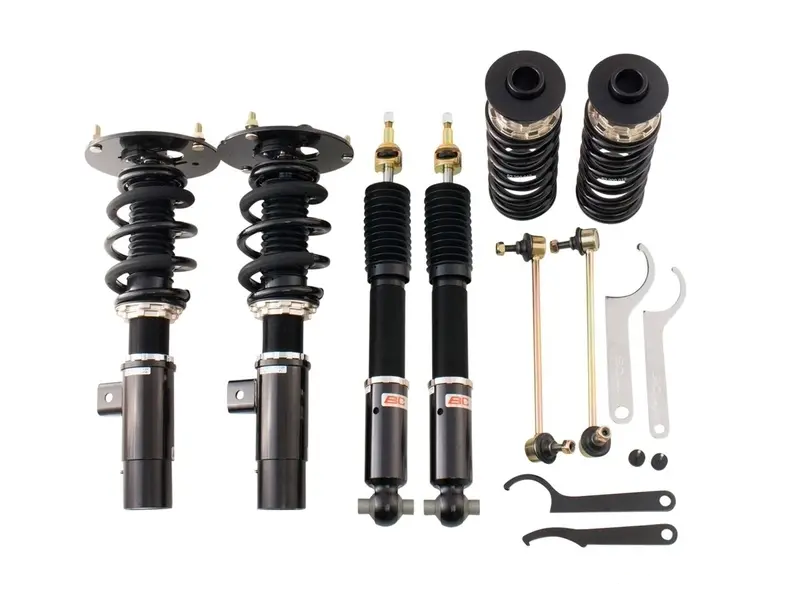 Featuring 30 levels of adjustment and performance spring rates and valving that makes the BR Series perfect for both daily drivers and track warriors!
For vehicles with 5-Bolt Top Mounts.

BC Racing has made a name for themselves in the automotive enthusiast communities by developing adjustable, street-and-track capable coilover kits for over a decade that are not only extremely effective, but also don't brake the bank!
The BR Series coilover suspension kit features mounting points and brackets that are completely compatible with all stock mounting locations and components. It is their most popular and versatile suspension setup, offering linear springs (where possible), 30 levels of dampening adjustment including simultaneous compression and rebound control, and a 2 inch minimum ride height drop. All BR Series kits are Dyno tested in order to determine the best valving and spring rates for each chassis and are tested for a minimum of 6 months before being released to the public to ensure ride quality and reliability.
All upper shock and strut mounts are all constructed of 6061-T6 Aluminum to ensure a lightweight and incredibly strong design. Front design options include: Caster/Camber Plates, Camber plates, and Rubber Mount Plates. See below for the option fitted to your chassis's BR Series Kit. The adjustable plate designs allow for up to 3 degrees of camber adjustment. The Rubber Mount Plates are better for preventing unwanted NVH.
Lower shock mounts are either made of 6061-T6 Aluminum just like the top mounts (Fork or Bolt Eye Style Mount) that have been milled from a single piece of material, or high quality STKM13C steel with all brackets welded robotically. Both style are then powder coated for corrosion protection and styling.
All springs used, linear, S-barrel, and v-barrel, are made of SAE9254 steel and utilize a Zinc coating under a powder coating finish to ensure rust cannot penetrate the metal of the spring and compromise performance or reliability. Liner springs are used in in places possible unless otherwise limited by the OE design of the vehicle which does not allow it. In that case, S-Barrel or V-Barrel springs are used to match OE shape/style specifications and the spring's rate is then matched to the linear rate.
BC Racing creates their kits utilizing a wide variety of shock types, lengths and diameters. Each vehicle depending on their data from R&D, and accounting for the OEM suspension design will utilize a different style of shock. Each shock is hand assembled in their factory and dyno tested before use in their kits. Shocks are paired together by their compression and rebound numbers after dyno testing for even and precise quality and performance. Each shock body used in their system is 53mm for added strength, performance, and increased fluid capacity (unless limited spacing will not allow). The shocks are then coated in black chrome for a clean, cohesive appearance and corrosion resistance.
Specs and Features:
6k Front & 12k Rear Spring Rate
V-Barrel front & Linear rear springs
Valved specifically to spring style and rate
Reuses OE Front Mounts
Rear Rubber Mounts
Black Powder Coated Components
All OE style brackets and mounting for perfect fit
30 Levels of Simultaneous Compression and Rebound Dampening
2 inch minimum and 3+ Inches of total potential drop
Great for Track, Street, and any other conditions