Gallery
Description
Reviews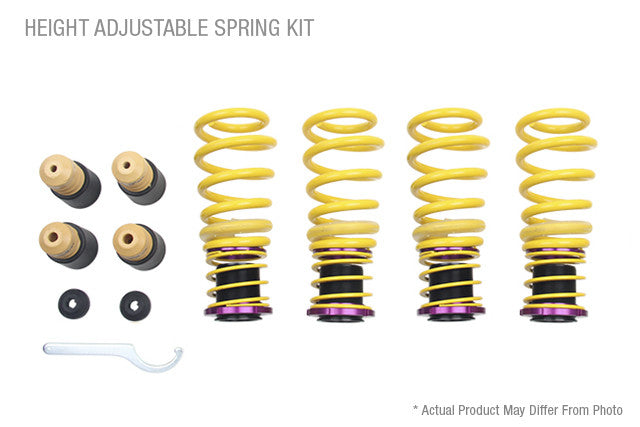 Kit includes front and rear coil springs, adjustable collars, bump stops, and spanner wrench.
Front Lowering: 0.8"-1.4"
Rear Lowering: 0.6"-1.4"
KW (H.A.S) Height Adjustable Spring kits are a great alternative to conventional lowering springs. You are no longer stuck with a fixed lowering height. KW H.A.S. systems allow you to adjust the vehicle ride height with the KW height adjuster even after the kit has been installed. Your vehicle not only gets a more dynamic look, but also the steering behavior and response of the standard dampers becomes more agile. All driver assistance systems and comfort features of a factory adaptive or electronic suspension remain operational and work harmoniously with our vehicle specific spring set up. KW uses high-quality springs made of chrome-silicon steel with spring rates designed specifically for each respective OE suspension damper and wheel load. KW's expertise and engineering ensure the spring rates will pair perfectly with the different damper characteristics of your factory adaptive electronic suspension. Along with the use of high quality materials and the included KW ride height Adjustment -echanisms, our KW H.A.S. kits always includes the vehicle-specific bump stops with dust protection system to protect your factory suspension against wear & tear caused by road grime and debris. Similar to a coilover suspension, the KW H.A.S kit allow a continuous adjustable ride height within a tested range, something not possible with conventional lowering springs. The dust protection elements and spring perches included in the delivery, when applicable, are always adjusted to the maximum technically possible lowering, typically limited by the factory dampers. With KW height adjustable springs, a sporty and harmonious driving behavior can be achieved without the driving dynamics of performance-oriented vehicles suffering. As with all KW suspension products our engineers develop vehicle specific parameters and spring specifications which undergo comprehensive testing on the Nurburgring Nordschleife and in our KW 7-post Driving Dynamic Test Center.