Gallery
Description
Reviews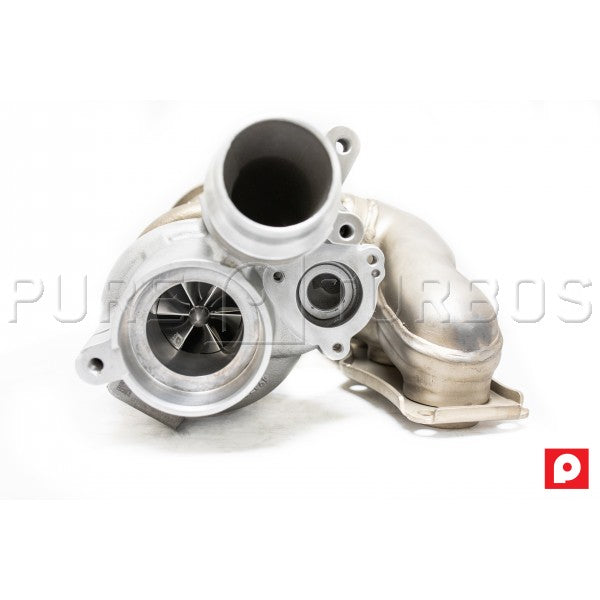 Product Details
For vehicles with electronic waste gate (EWG)

The N20 is a fun tuning platform - with just a turbocharger and light modifications, 300whp, 350whp or more can be achieved. Pure Turbos has a turbocharger upgrade capable of fulfilling these goals! Pure has carried over some of their best design features to this upgraded OEM turbocharger:
Custom turbine wheel
Custom billet compressor wheel
100% bolt on: direct fit, as OEM, as these utilize OEM housings.
Featuring a limited 1 year warranty.
This Part Fits the Following Vehicles
| Make | Model | Submodel | Engine |
| --- | --- | --- | --- |
| BMW | E84 | X1 sDrive28i | N20 2.0L |
| BMW | E84 | X1 xDrive28i | N20 2.0L |
| BMW | F10 | 528i | N20 2.0L |
| BMW | F10 | 528i xDrive | N20 2.0L |
| BMW | F22 | 228i | N20 2.0L |
| BMW | F22 | 228i xDrive | N20 2.0L |
| BMW | F23 | 228i | N20 2.0L |
| BMW | F23 | 228i xDrive | N20 2.0L |
| BMW | F25 | X3 sDrive28i | N20 2.0L |
| BMW | F25 | X3 xDrive28i | N20 2.0L |
| BMW | F26 | X4 xDrive28i | N20 2.0L |
| BMW | F30 | 320i | N20 2.0L |
| BMW | F30 | 320i xDrive | N20 2.0L |
| BMW | F30 | 328i | N20 2.0L |
| BMW | F30 | 328i xDrive | N20 2.0L |
| BMW | F31 | 328i xDrive | N20 2.0L |
| BMW | F32 | 428i | N20 2.0L |
| BMW | F32 | 428i xDrive | N20 2.0L |
| BMW | F33 | 428i | N20 2.0L |
| BMW | F33 | 428i xDrive | N20 2.0L |
| BMW | F34 | 328i xDrive | N20 2.0L |
| BMW | F36 | 428i | N20 2.0L |
| BMW | F36 | 428i xDrive | N20 2.0L |
| BMW | Z4 | sDrive28i | N20 2.0L |