Gallery
Description
Reviews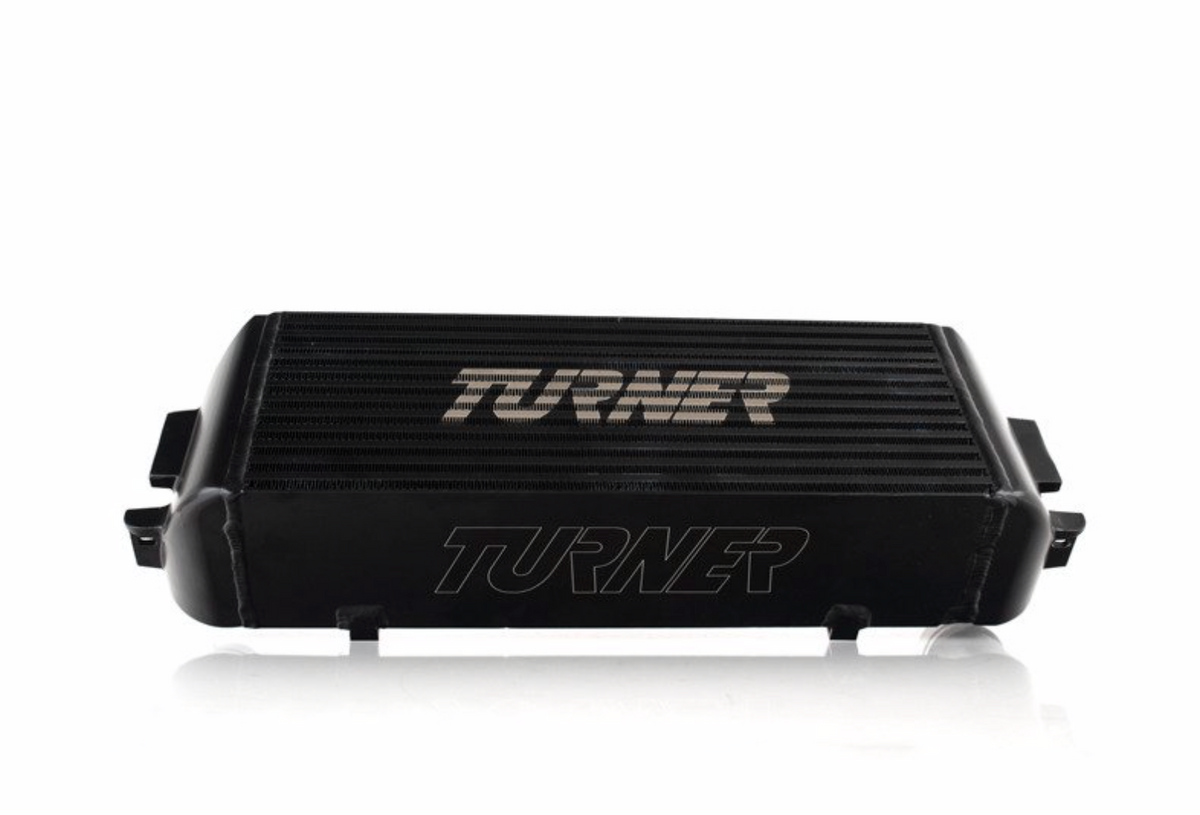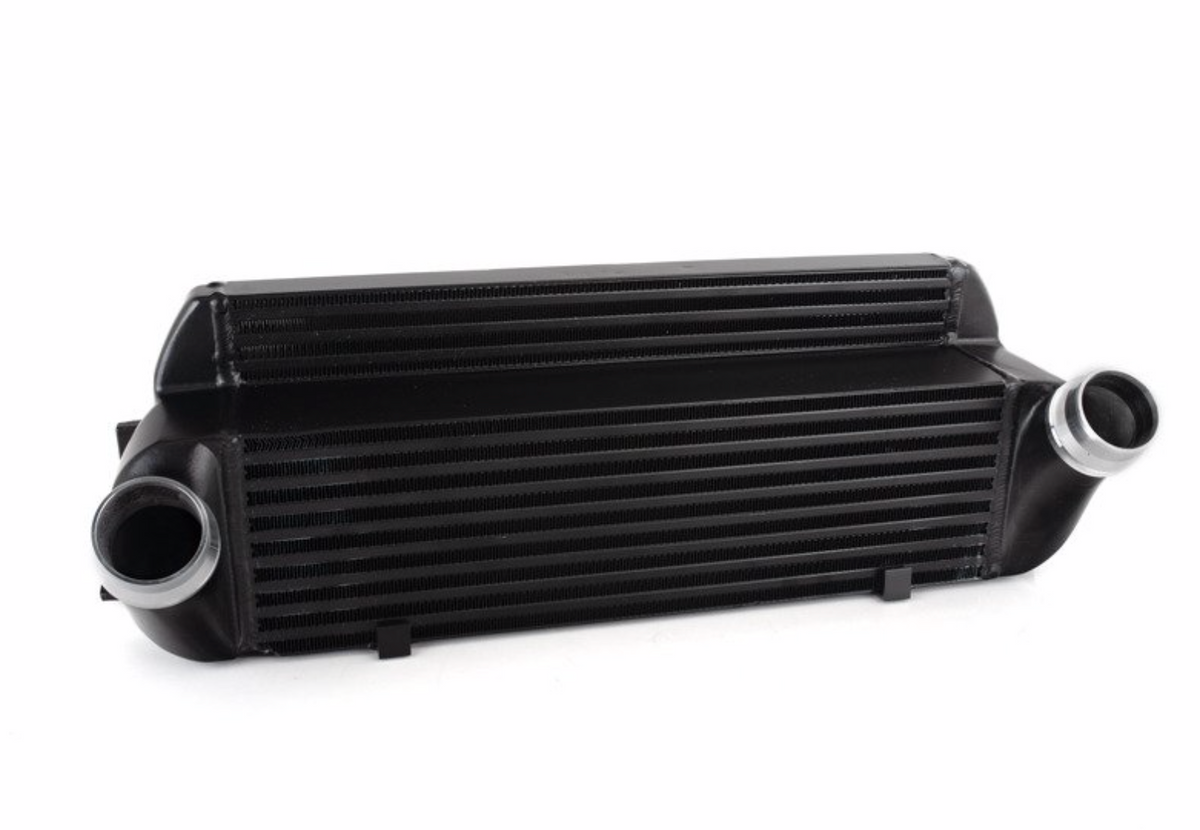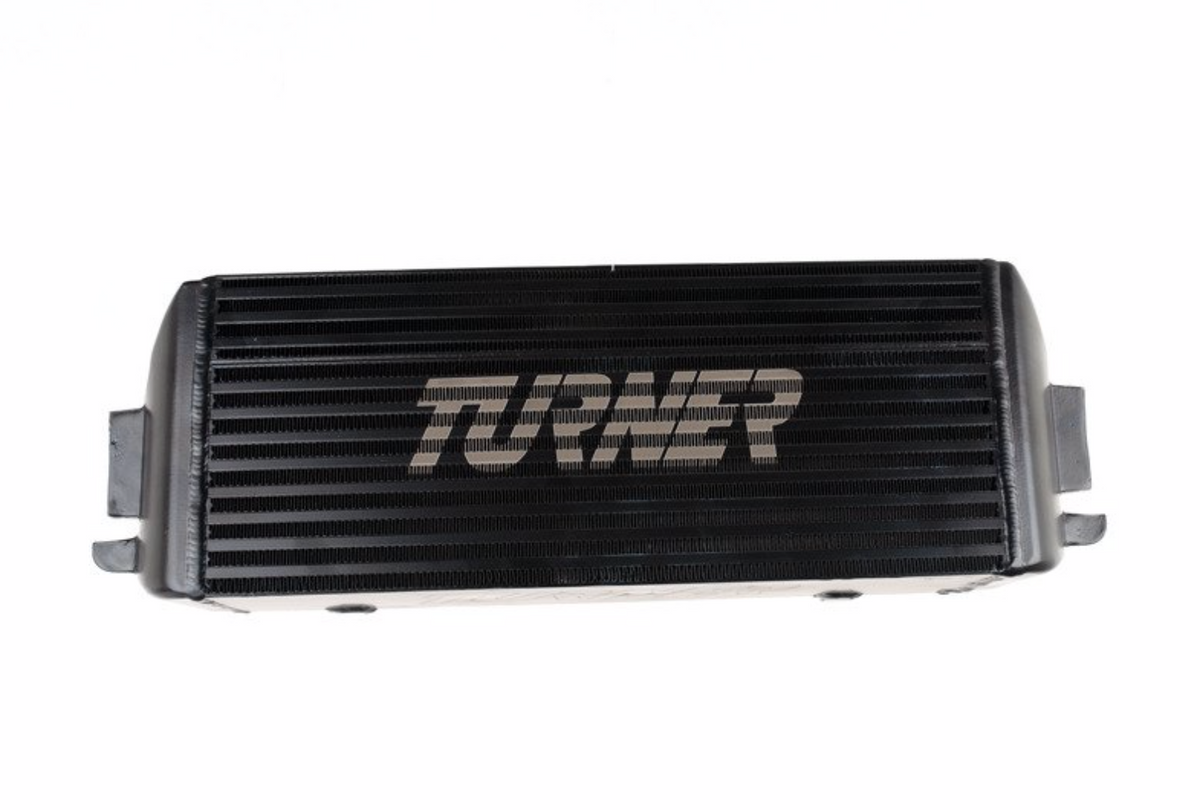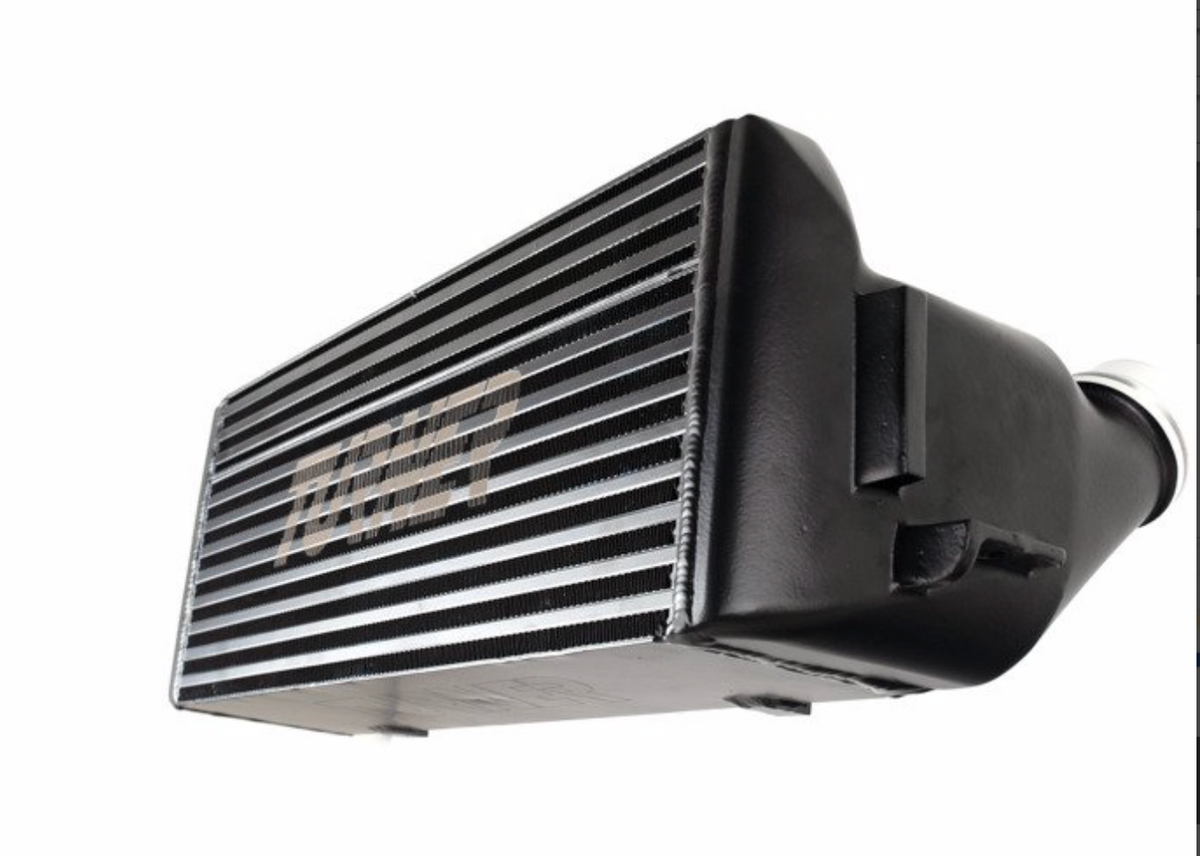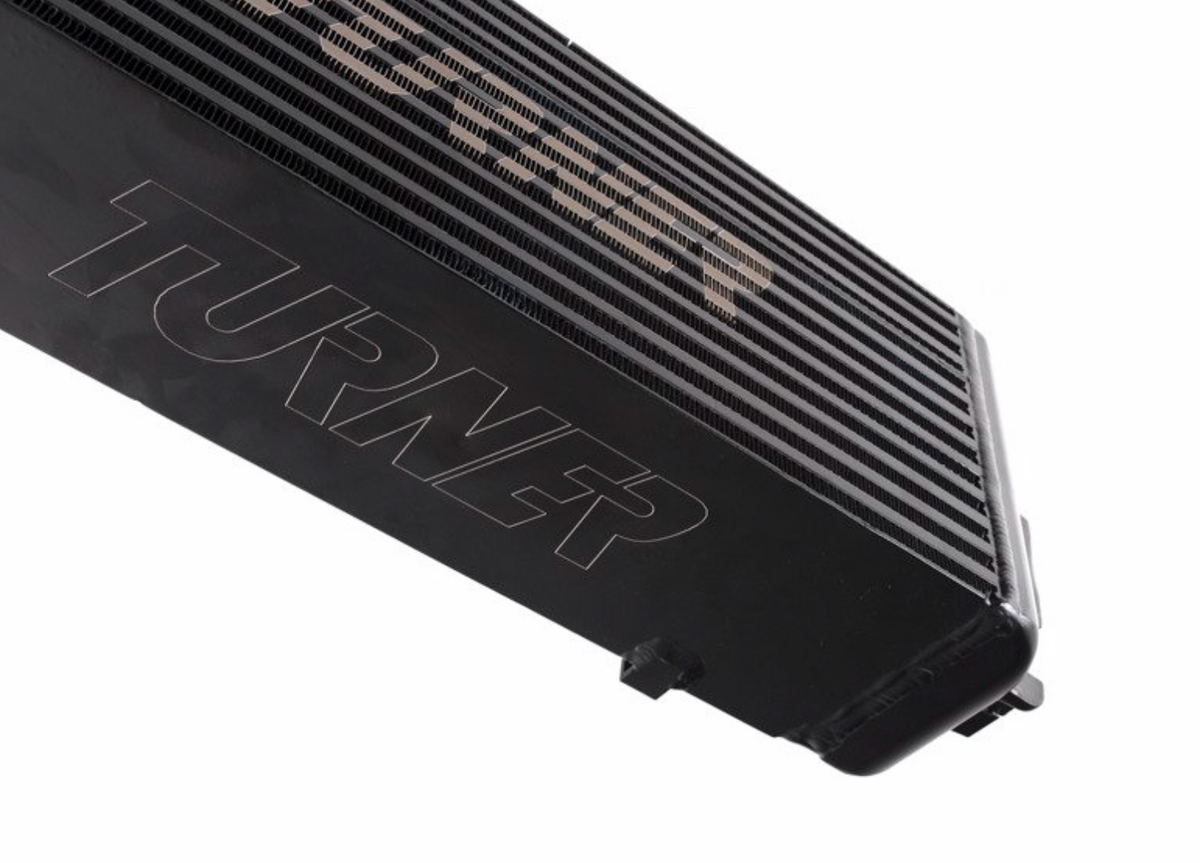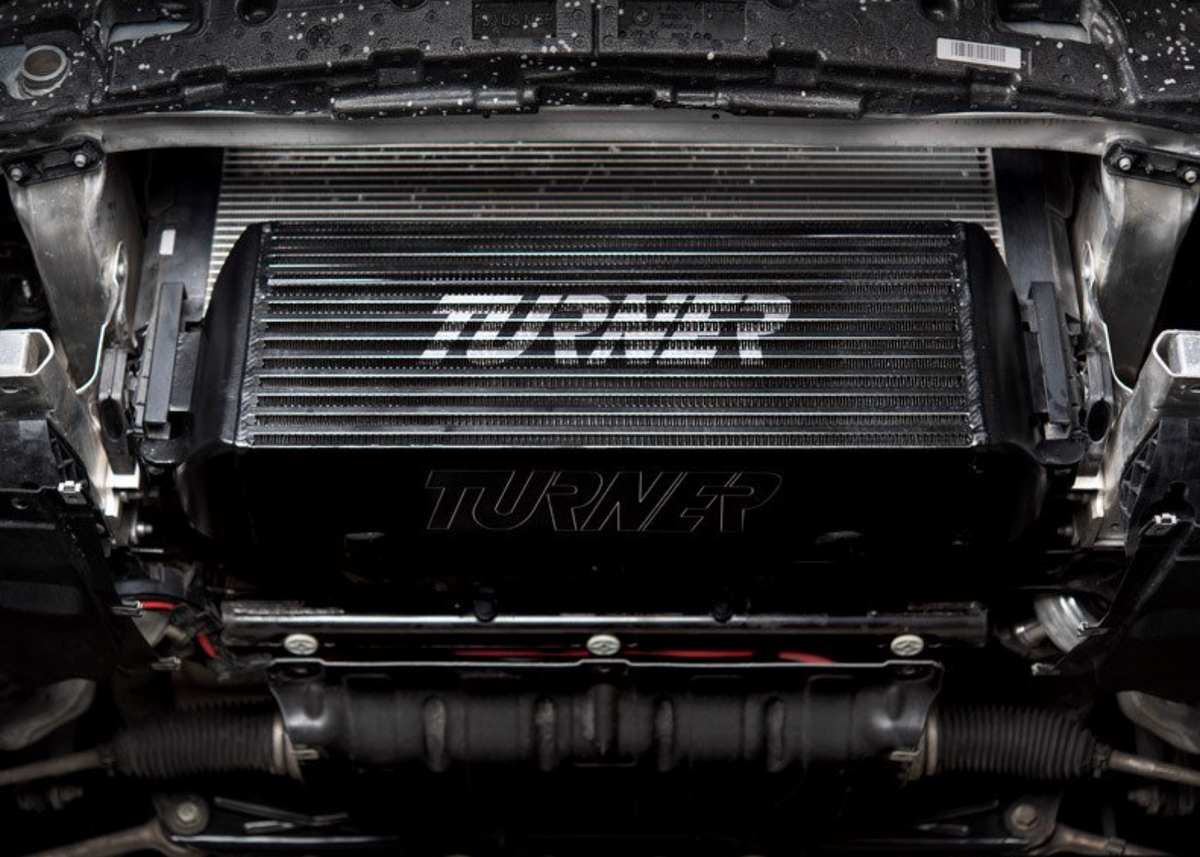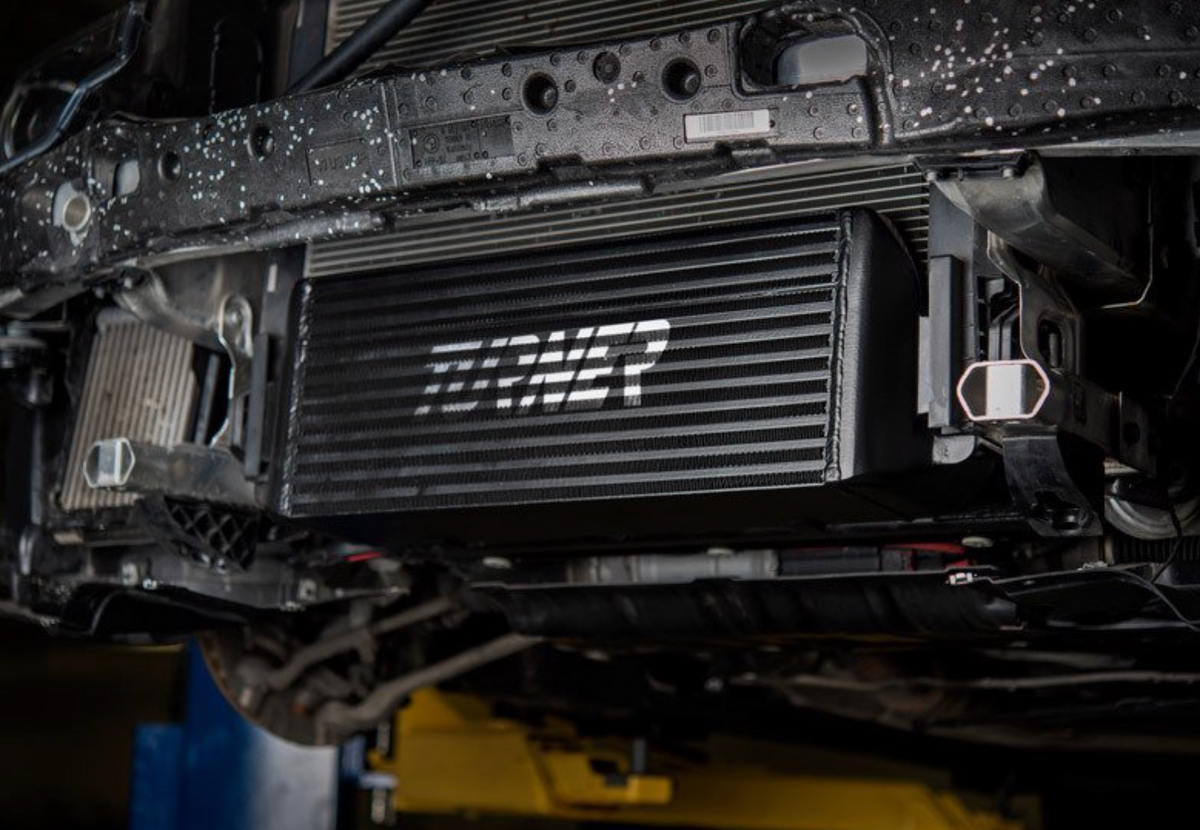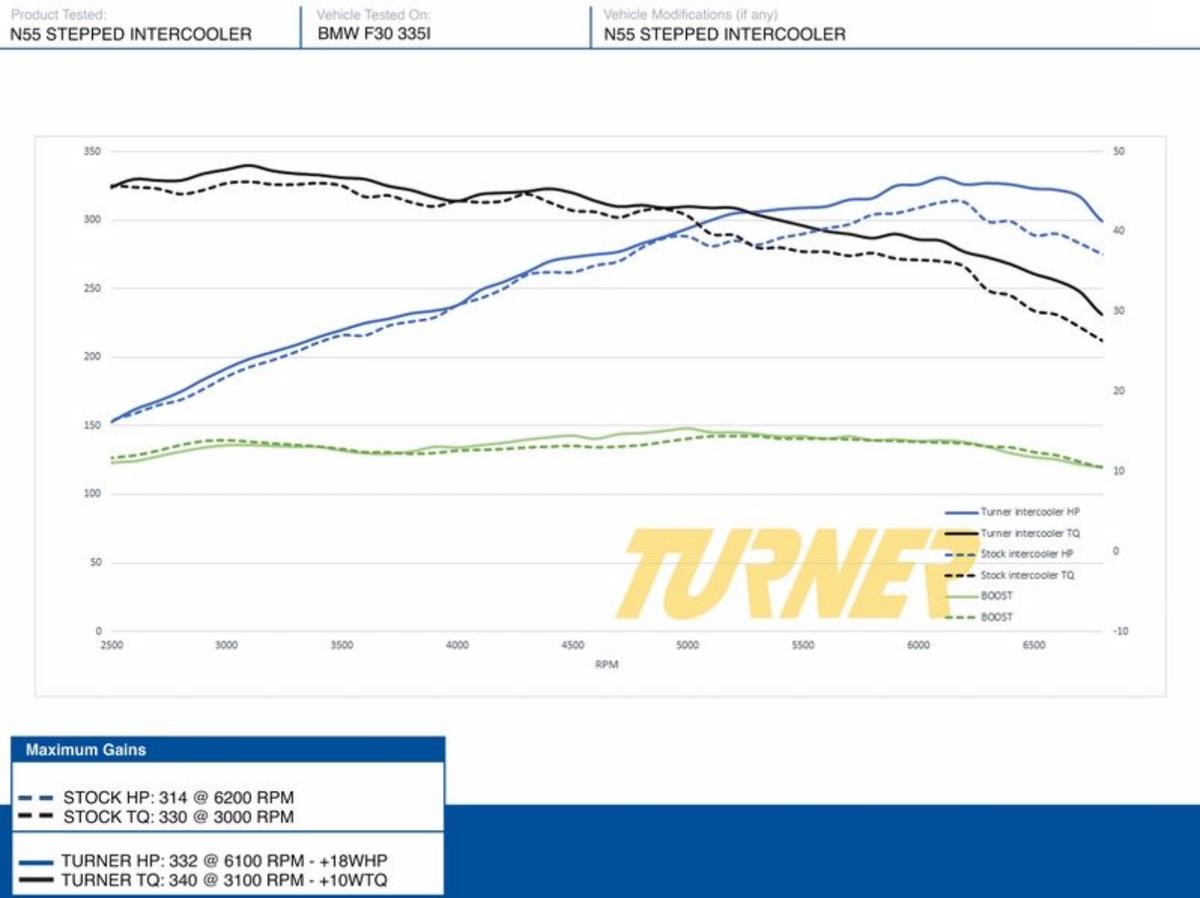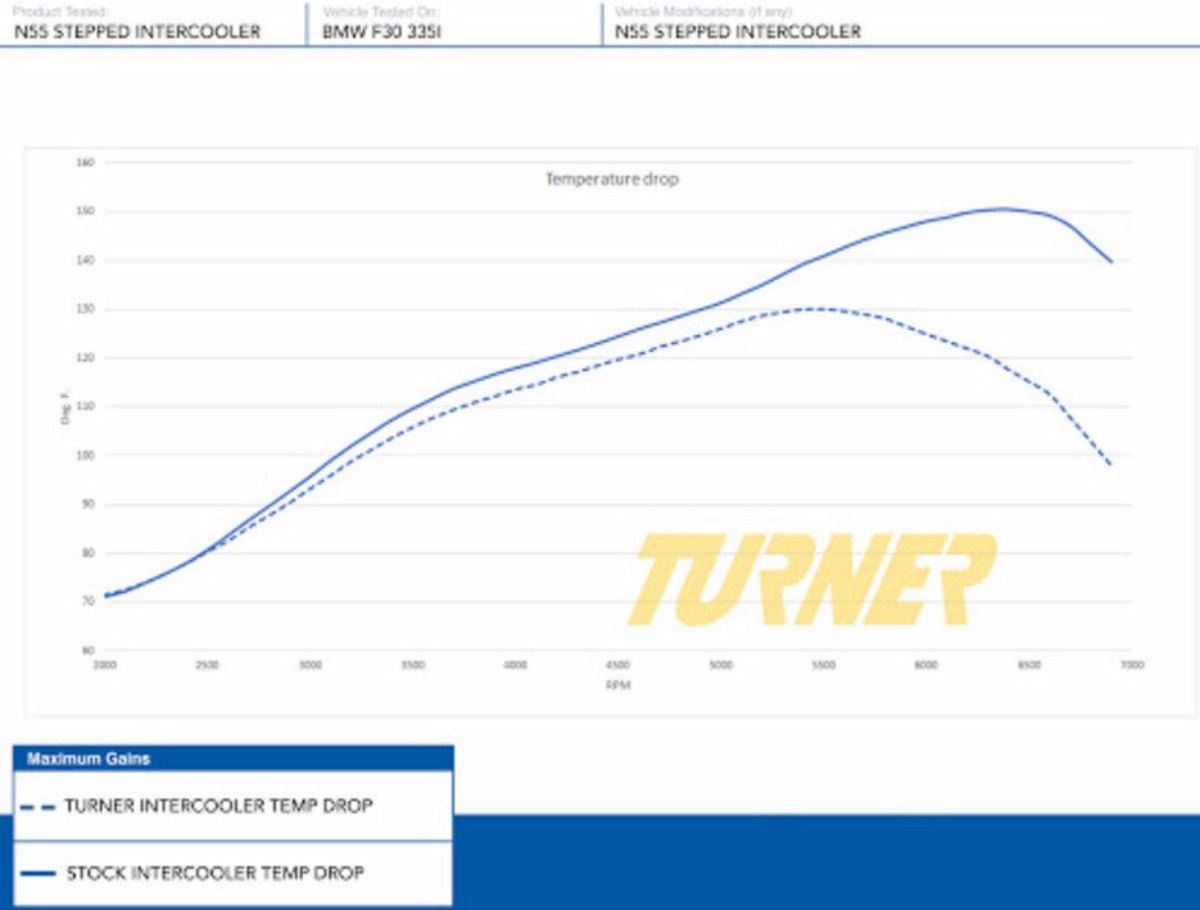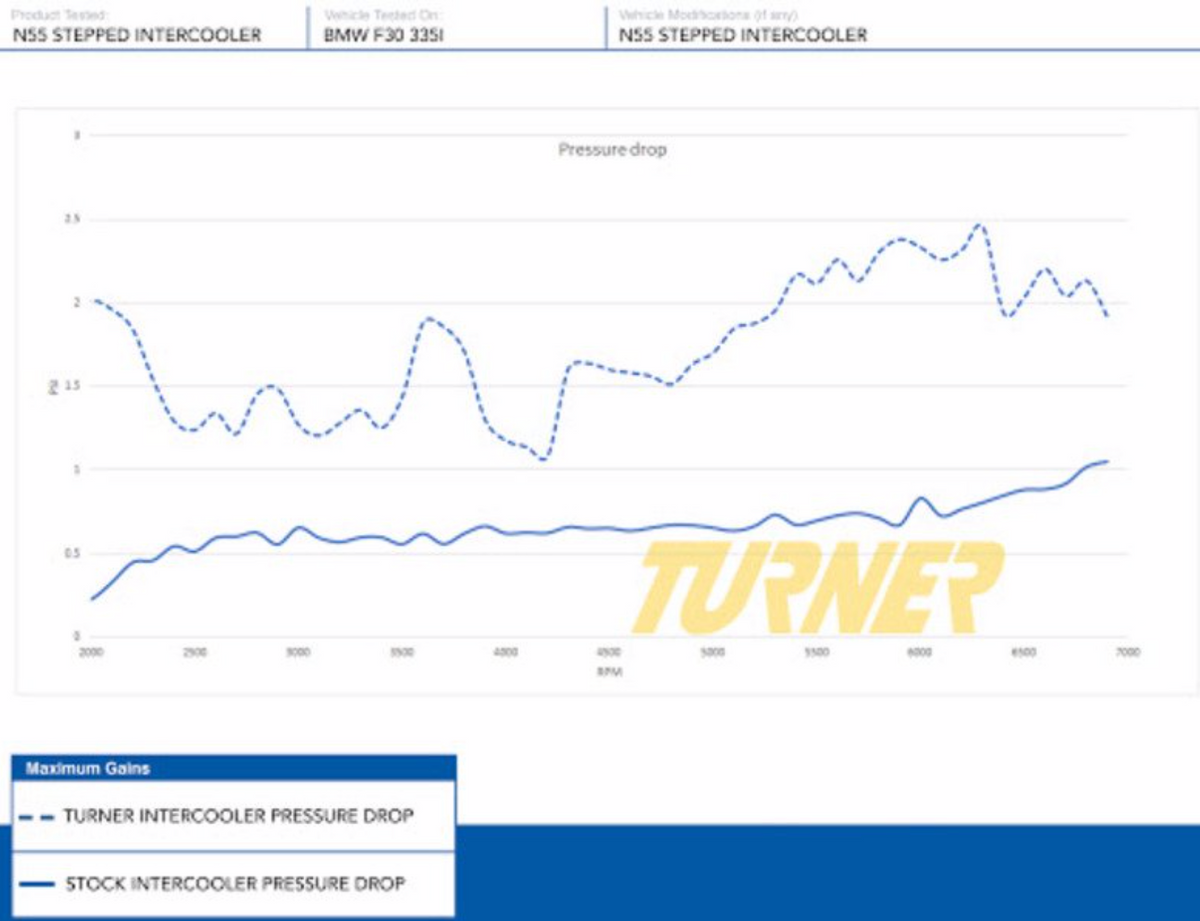 It's a basic principle of high performance: "A cool engine is a happy engine." In addition to reducing engine temperatures, cooler air is denser. An engine works as a glorified air compressor. Denser air means a larger mass of air and fuel in the same intake volume, resulting in more power. Turner Motorsport has developed an intercooler upgrade that is far superior to the stock unit. Constructed from cast aluminum with a bar and plate design, this intercooler increases both cross sectional area and frontal surface area by 56%.
The temperature from the inlet side to the outlet side is decreased by 45 degrees, showing one and a half times the temperature differential of the original part. Pressure decrease is also minimized, eliminating restriction and reducing the workload of the turbocharger. The stepped design increases volume and surface are in a limited space by adding an additional smaller core at the top of the intercooler. As a bolt-in upgrade, expect dyno-proven gains of 18 wheel horsepower and 10 lb/ft of torque. With a tune and supporting modifications, further gains are possible, up to 36 horsepower and 28 lb/ft of torque. All of this with an intercooler that still weighs under 20 lbs.
The attractive black finish is stealthy and easy to clean, while the etched "Turner" logos on the front and bottom of the intercooler add just the right amount of flash. If you're looking for the ultimate upgrade for your turbo BMW's cooling system, look no further than the Turner Motorsport Stepped Intercooler.
Cast aluminum construction
Bar and plate design
56% increase in frontal surface area & cross sectional area
Decrease in temperature of 45 degrees from inlet side to outlet side (95 degree drop stock on outlet side vs. 140 degree drop on Turner outlet side)
Significantly less restriction (pressure drop of consistently 0.75 psi vs. 1.5-2.5 psi stock)
+18HP/10TQ (+36HP/28TQ with tune and supporting mods)
Weighs under 20 lbs.
Overall size: 520mm wide, 210mm tall
Mounting hardware included
Upgrade to the following OE Intercoolers: 17517600531, 17517600530, 17517618809
This Part Fits the Following Vehicles
| Make | Model | Submodel | Engine |
| --- | --- | --- | --- |
| BMW | F22 | 228i | N20 2.0L |
| BMW | F22 | 228i xDrive | N20 2.0L |
| BMW | F22 | M235i | N55 3.0L |
| BMW | F22 | M235i xDrive | N55 3.0L |
| BMW | F23 | 228i | N20 2.0L |
| BMW | F23 | 228i xDrive | N20 2.0L |
| BMW | F23 | M235i | N55 3.0L |
| BMW | F23 | M235i xDrive | N55 3.0L |
| BMW | F30 | 320i | N20 2.0L |
| BMW | F30 | 320i xDrive | N20 2.0L |
| BMW | F30 | 328i | N20 2.0L |
| BMW | F30 | 328i xDrive | N20 2.0L |
| BMW | F30 | 335i | N55 3.0L |
| BMW | F30 | 335i xDrive | N55 3.0L |
| BMW | F31 | 328i xDrive | N20 2.0L |
| BMW | F32 | 428i | N20 2.0L |
| BMW | F32 | 428i xDrive | N20 2.0L |
| BMW | F32 | 435i | N55 3.0L |
| BMW | F32 | 435i xDrive | N55 3.0L |
| BMW | F33 | 428i | N20 2.0L |
| BMW | F33 | 428i xDrive | N20 2.0L |
| BMW | F33 | 435i | N55 3.0L |
| BMW | F33 | 435i xDrive | N55 3.0L |
| BMW | F34 | 328i xDrive | N20 2.0L |
| BMW | F34 | 335i xDrive | N55 3.0L |
| BMW | F36 | 428i | N20 2.0L |
| BMW | F36 | 428i xDrive | N20 2.0L |
| BMW | F36 | 435i | N55 3.0L |
| BMW | F36 | 435i xDrive | N55 3.0L |
| BMW | F87 | M2 | N55 3.0L |