Gallery
Description
Reviews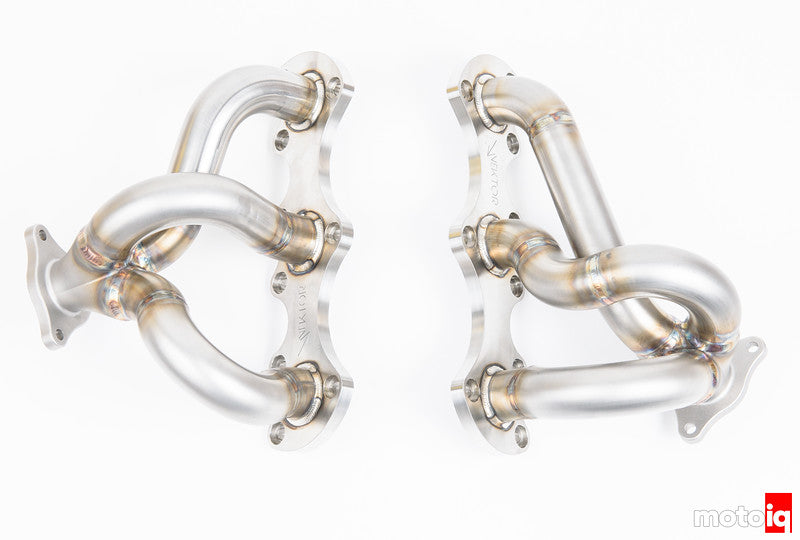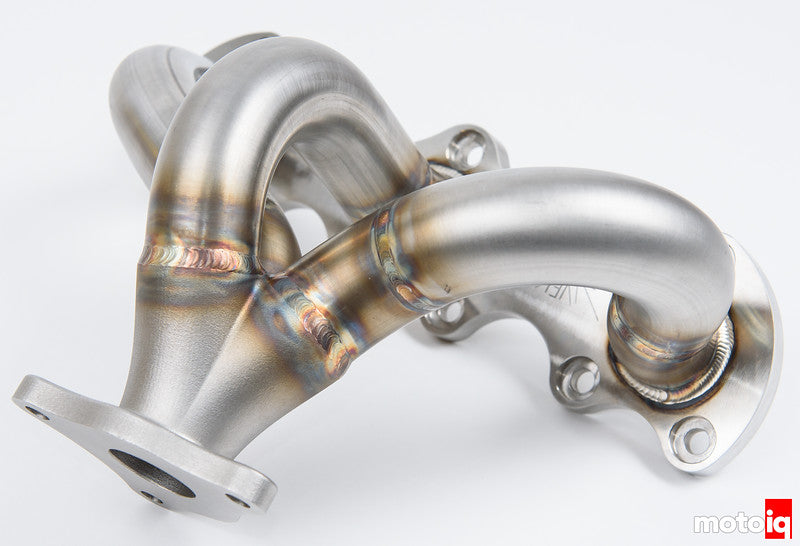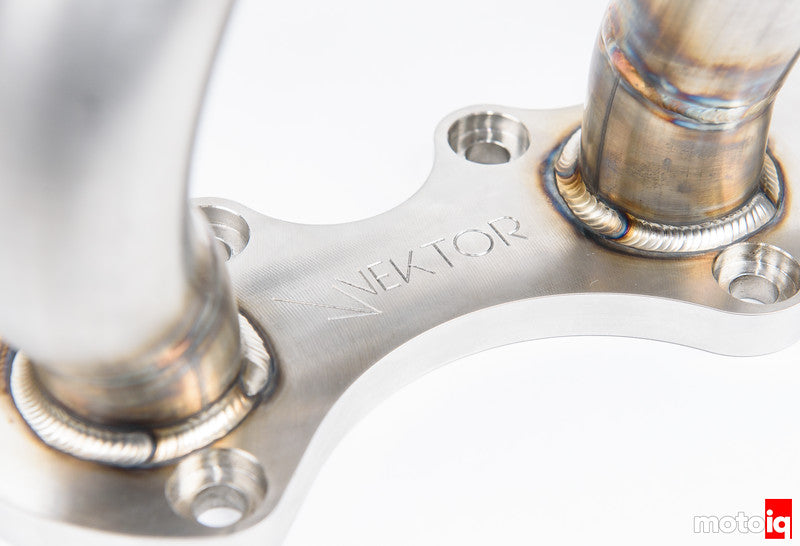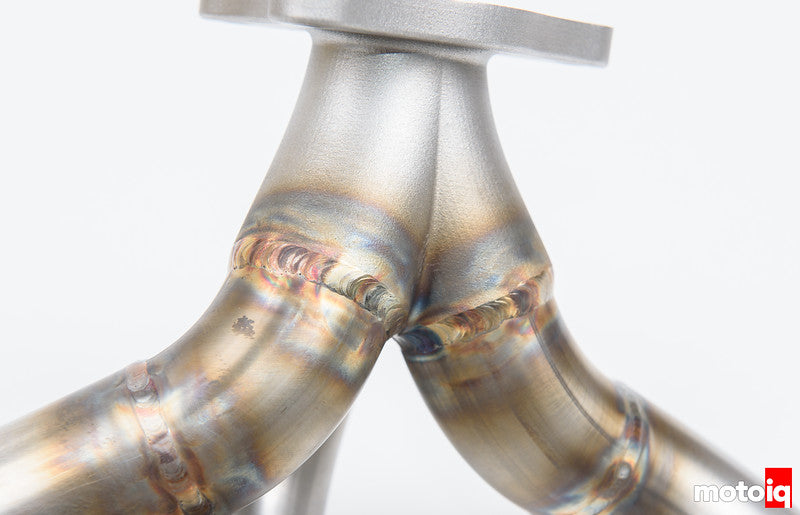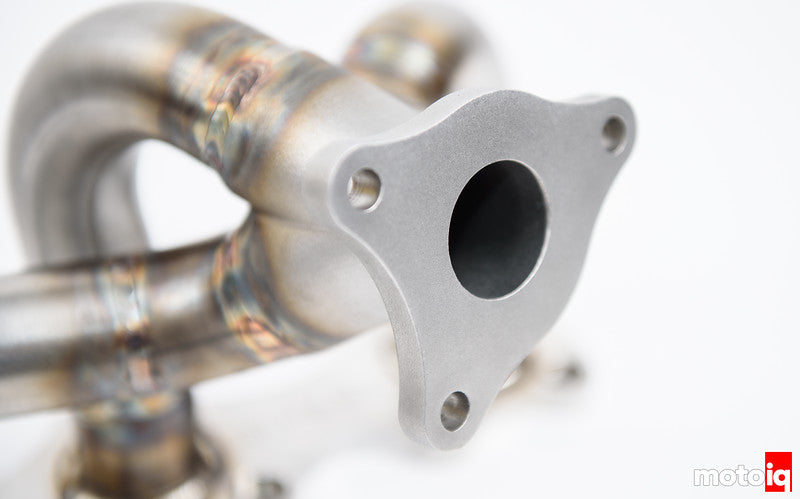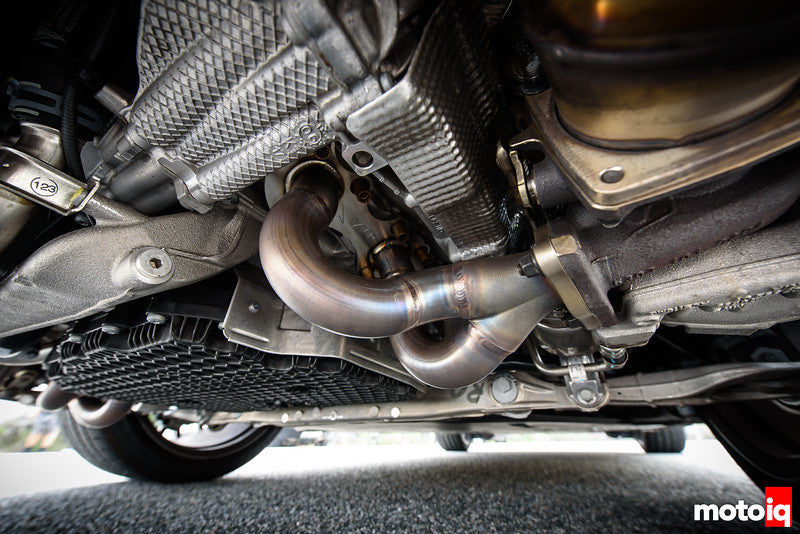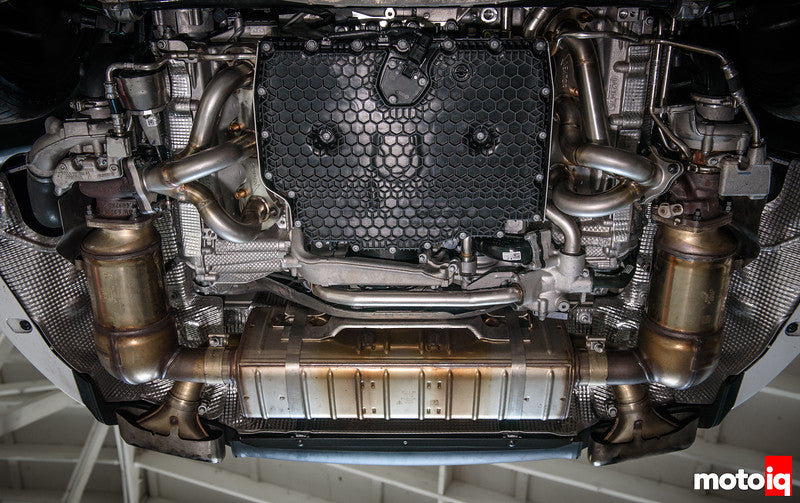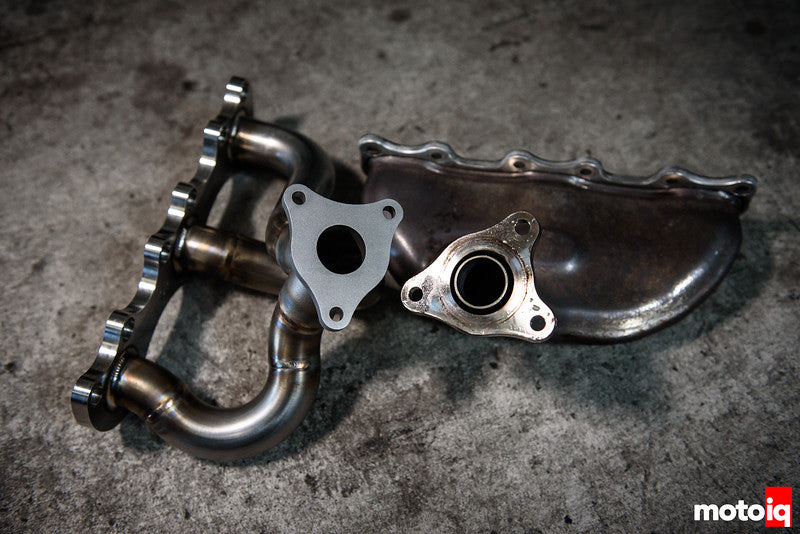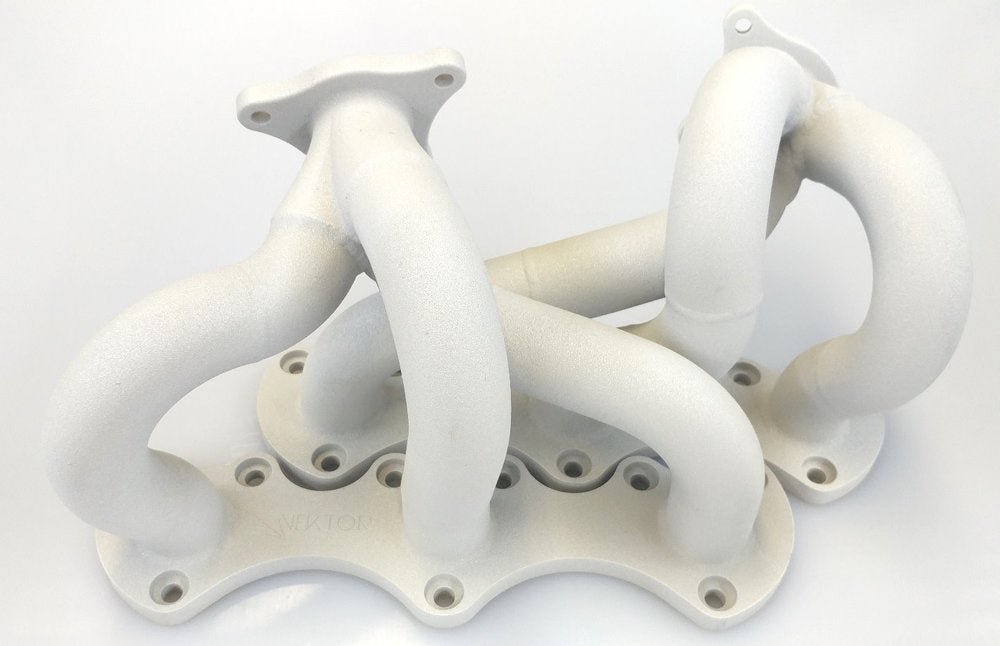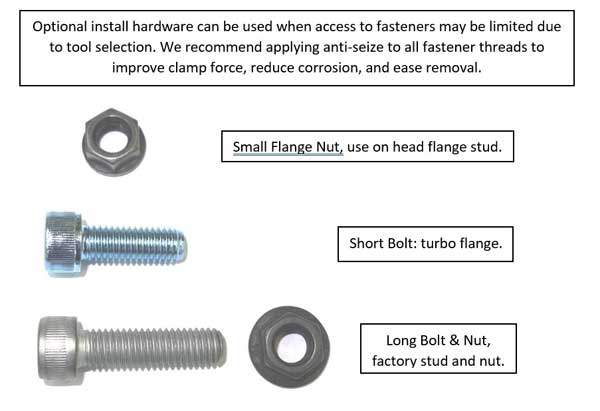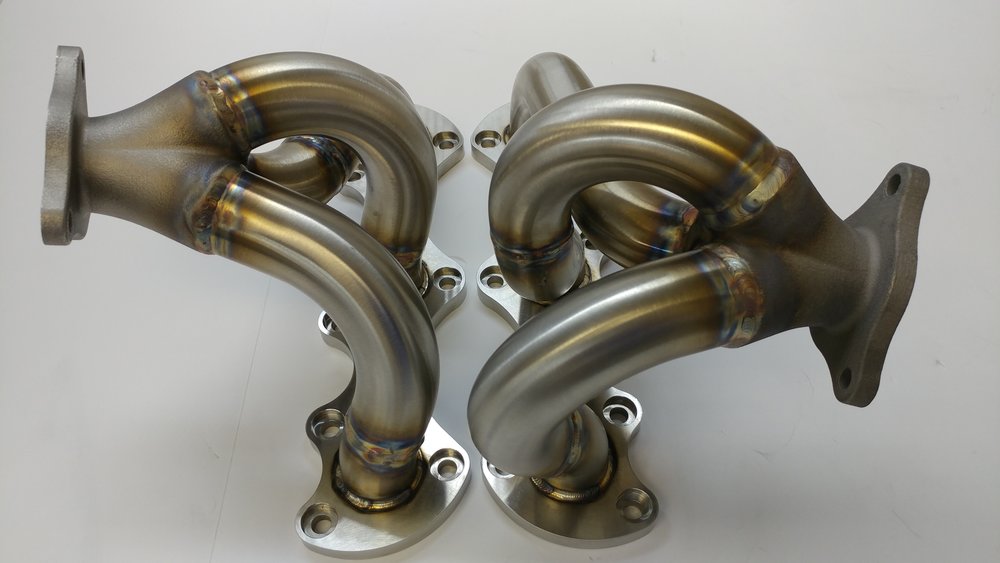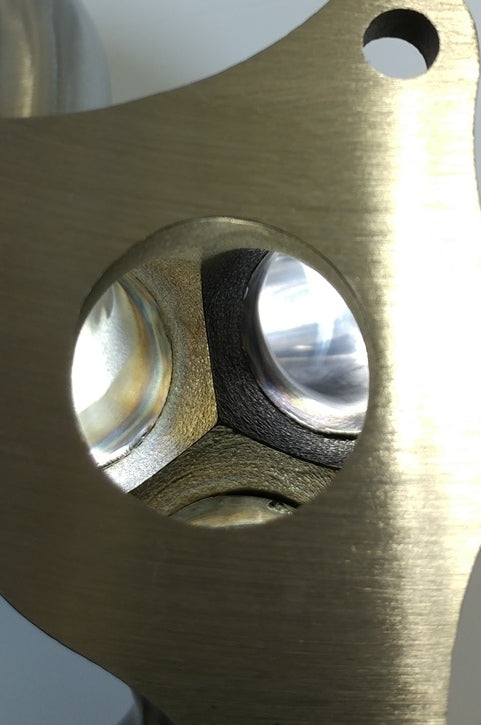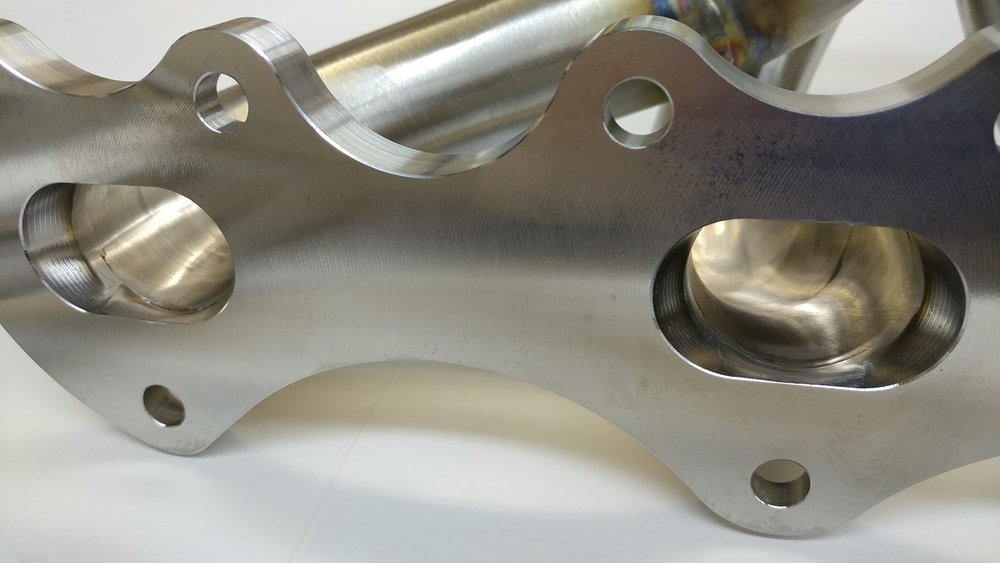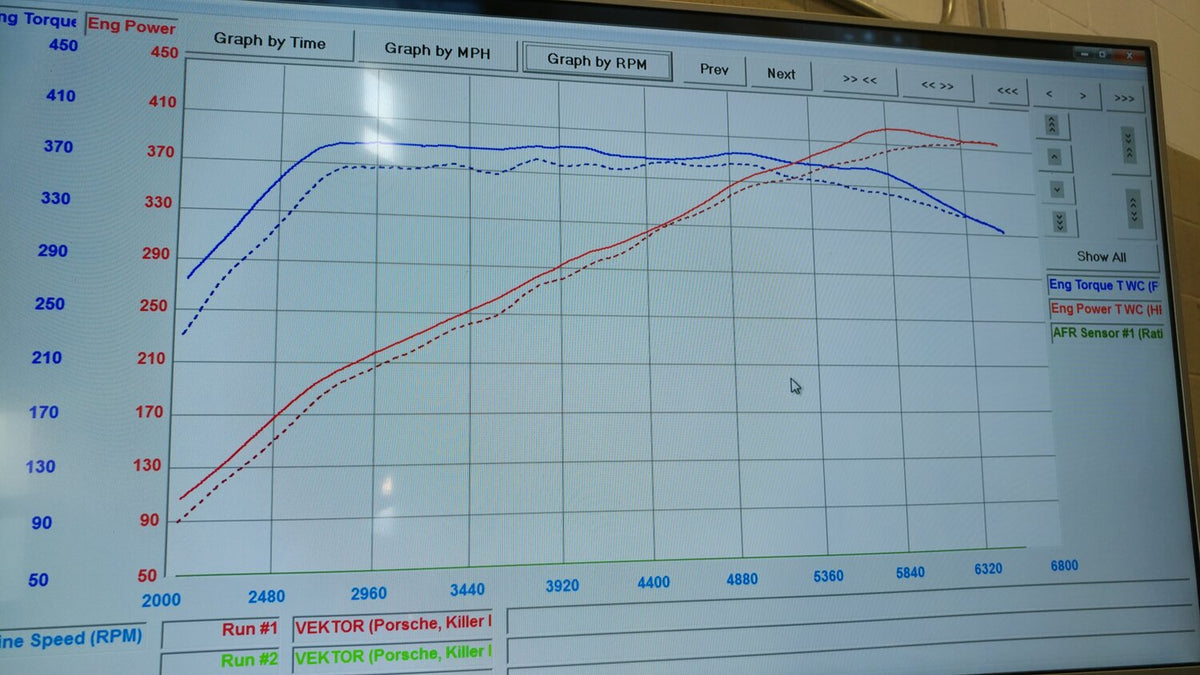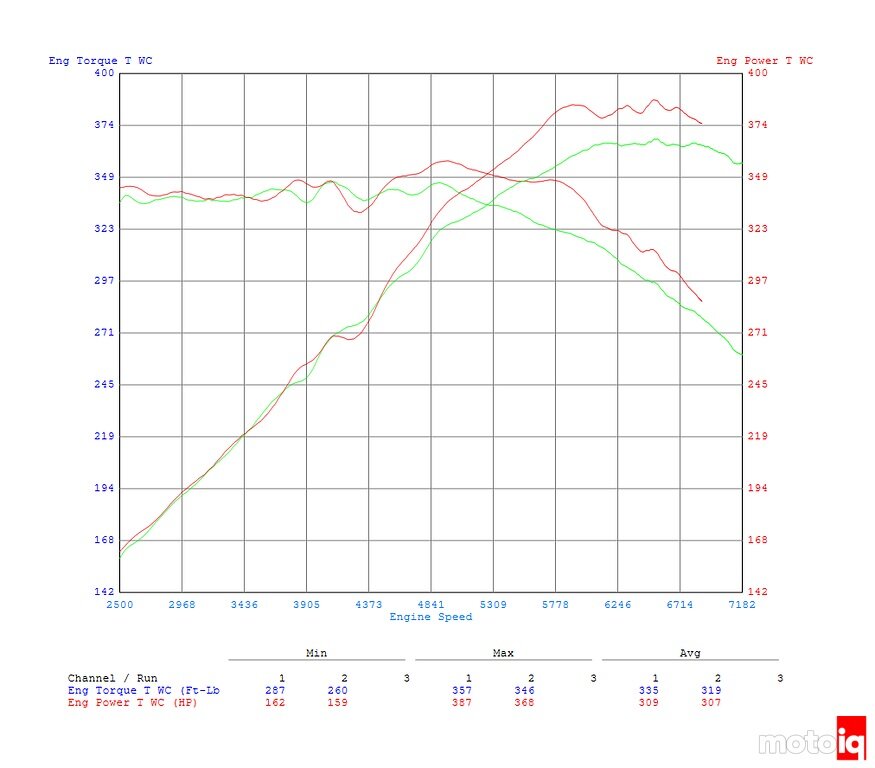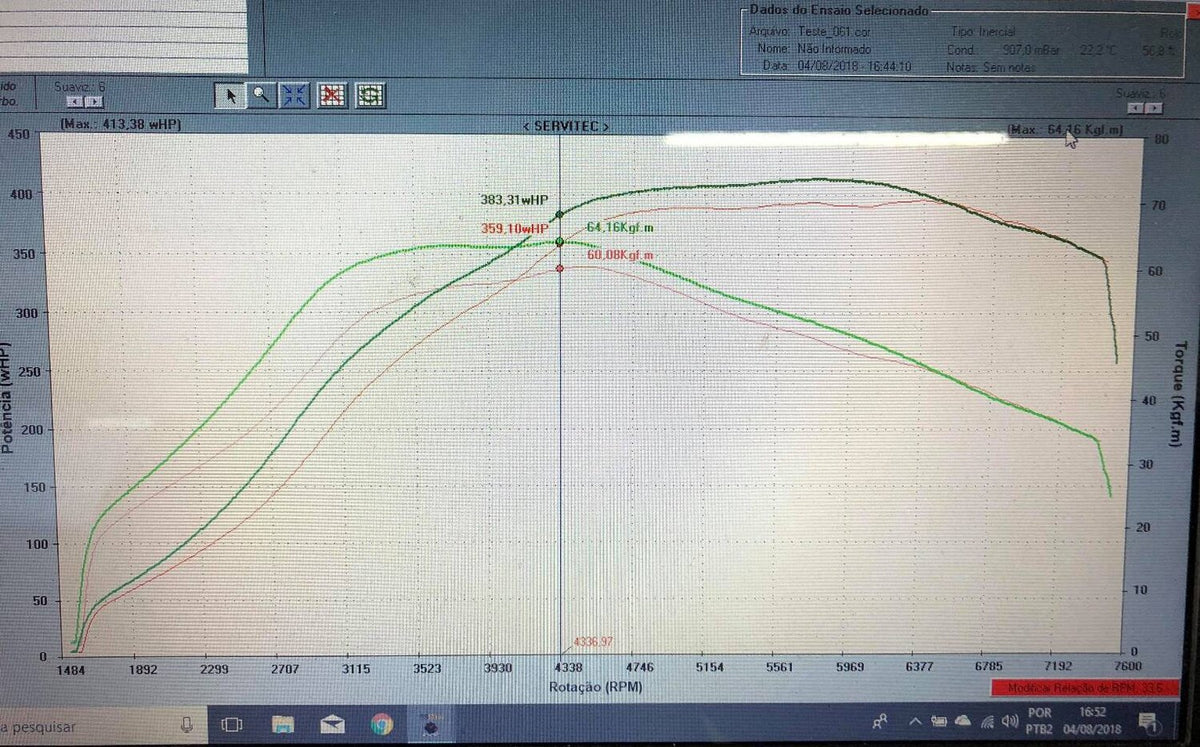 OEM MANIFOLD
Upon first inspection of the OEM manifold from Porsche we noticed that it is engineered as a solid reliable product; economical and easy to manufacturer. Two stamped and formed halves are welded to each other, a quarter inch three port flange, a turbine inlet tube, and finally another quarter inch flange that mounts to the turbo. These welds are robotic, and in some places the welds protrude inward reducing flow. The inside of the manifold is completely open, meaning there is no separation between the ports. This effectively makes the manifold one large turbulent plenum.
THE PROCESS
The OEM manifold is laser scanned and the data is transferred into our Solid modeling software. From this point the design flaws are adjusted. The manifold is morphed into individual primary tubes. Computer driven simulations are performed to test for both flow efficiency and stress resistant characteristics. Once an optimized performance design is reached the model is tweaked for reliable manufacturing processes that ensure quality, and then tested in the simulator again to ensure that no loss in strength or performance has occurred before a prototype is produced.
MANUFACTURING
Our products and their components are made in the USA. 321 stainless steel is used in the construction of our headers for its superior thermal characteristics due to its alloying element titanium. Flanges are precision laser cut out of half inch stainless steel. The tubing is CNC mandrel bent ensuring no loss in diameter of the tube. The collectors are 347 stainless steel cast which is stable at high temperatures and aids in smooth merging from the primaries. All components are mounted in fixtures that provide back purging during the hand welding process which shields the welds on the inside of the header from impurities.
FINAL PRODUCT
The final product design is put through extensive real world testing on the dyno, track and street until we have the utmost confidence that our header will improve the driving experience of our valued customers. Customers report that a typical installation of our header along with dyno tuning yields approximately a 30 HP gain. Your results may vary based on setup and the dyno / tune. Great care is taken with the production of our product, the selection of our materials, extensive testing, and quality control. You can feel confident purchasing Vektor Performance headers knowing that they are backed by our Lifetime Warranty.
- 321 Stainless Steel
- ½" Thick 3D Head Flanges to Maintain Flatness
- 3D Machined Head Flanges for Smooth and Consistent Port Transition
- All Tubes Large Radius Free Flowing Mandrel Bends
- Cast Collector Provides Improved Strength
- Rotary Merge Design for Optimized Flow Across All Cylinders
- Engineering, Manufacturing, and Materials U.S.A Sourced and Certified
- Hand TIG Welded and Back-Purged by Craftsmen
- Internal Surfaces Lovingly Ported
- Lifetime Warranty
We are proud to present the 991.2 Carrera Performance Headers. We strived to create a product providing the best performance, quality, and value. To meet these goals, our Performance Headers are fabricated using the highest quality, USA sourced and certified 321 SS with a unique cast merge. The cast merge creates a geometry for optimum flow for each equal length runner, allows each runner to have the most generous bend radii possible, and also increases strength compared to a fabricated merge. The final product is welded together and ported by our highly skilled fabricators here in the USA. Along with the headers, we provide new gaskets to ensure there are no issues with your installation. We also provide the option of coating the Performance Headers with Swain Tech's White Lightning Exhaust Coating for those seeking maximum performance. 
Lifetime Warranty

All Vektor Performance parts have a Lifetime Warranty for the Original Purchaser. This warranty only applies to the original purchaser and is non-transferrable. If the product fails it would need to be determined by Vektor Performance that it is due to manufacturing defects in materials or workmanship. This does not cover normal wear and tear. Improper use, modification, or abuse voids this warranty. Vektor Performance will not be held responsible for additional costs due to the failure of a product (cost of sale, towing, laber, etc.).
Warranty claims must be shipped back to Vektor Performance for review. You must call or email for return authorization prior to returning the product. For warranty evaluation please return your item to Vektor Performance Warranty, 1 Solution Way, Suite 201, Waynesboro, VA 22980.  
Warranty claims will only be honored if the product is purchased through Vektor Performance or an authorized dealer.